Green America Laboratories (GAL), subsidiary of Amazonas Florestal Ltd (OTCMKTS:AZFL), has completed and presented the revised final submittals of its architectural, mechanical, electrical, and plumbing plans to the Miami-Dade County Building and Zoning. It is now pending their review and approval.
Trading Data
On Tuesday, AZFL stock soared 14.30% to $0.0008 with 159.30 million shares, compared to its average Tuesday of 39.51 million shares. The stock moved within a range of $0.0007 – 0.0009 after opening trade at $0.0008.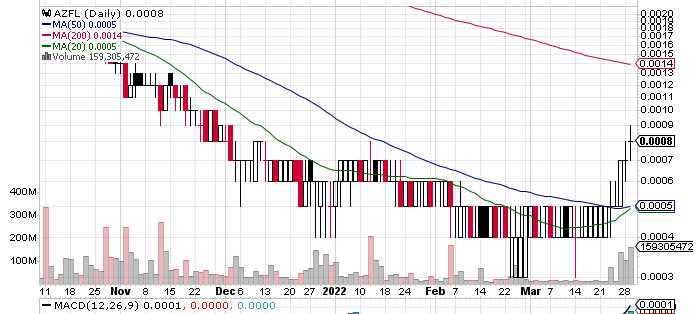 The drawings have been amended after input from county authorities, and GAL's management expects to be accepted and approved in the upcoming weeks. Once the building permit is issued, it can go ahead with the build out and installation of its state-of-the-art lab equipment. It will be the first of its kind in South Florida, which is the gateway to Latin America where the emerging markets for these products are growing substantially.
Green America Laboratories is set to become the first major bulk cannabinoids extraction lab in Miami, with a production capacity of 200+ KGS per day of High-CBD T-Free distillates and isolates. Once permits are approved, company managers will schedule the final installation and training. It is supposed to take around 90 days, which gives them sufficient time to launch operations most probably in the fall of 2022.
Till the local building authorities give the green light for the permit, GAL's management team will focus on obtaining the permit approvals to complete the construction of the facility in the coming months.
Key Quote
AZFL Chairman/CEO Ricardo Cortez stated: "The completion of Green America Labs continues to be top priority for our Management Team that in cooperation with specialized engineering and environmental firms have put together an excellent set of plans for Miami-Dade County Building Department. Our market research has made it clear that once the lab's operations are inaugurated and open for business, it will represent a major milestone in the development of AZFL and lead our company to its first ever USA-based positive revenues and it will happen this year. As a small public vehicle that has never been able to report substantial revenues from stateside operations, we are confident that this development will lead the way to enable us to apply for QB or QX which has always been our goal and intention."
Technical Data
AZFL stock is above the 20-Day and 50-Day Moving averages of $0.0005 and $0.0005 respectively. However, the stock is trading below the 200-Day moving average of $0.0014.