Adaptive Ad Systems Inc. (OTCMKTS:AATV) was up 11% after releasing its annual report for the year ended December 31, 2021, which was yet another profitable year.
Trading Data
On Wednesday, AATV stock gained 11% to $0.5479 with more than 500 shares, compared to its average Wednesday of 746 shares. The stock moved within a range of $0.5479 – 0.5479 after opening trade at $0.5479.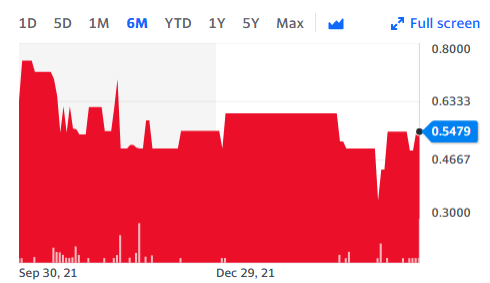 Adaptive Ad Systems Releases Annual Report for 2021 Reports Another Record Profitable Year
The company offered Dynamic Digital Ad Insertion (DDAI) for cable T.V. industries via its media streaming hardware and specialized software application, with a special emphasis on underserved rural areas, as well as High Speed Fixed Wireless Internet Service (WISP) through its system of Micro POPs and Hybrid Access Points.
The firm's gross revenue in 2021 is the second-highest in a non-presidential election period and the third-highest in seven. Despite the fact that almost every segment saw a drop in revenue as a result of the COVID-19 Pandemic, Adaptive managed to continue expanding ad insertions on its specialized platforms across its cable TV networks and WISP offerings in 2021. As a result, the adaptive will be able to report enough revenue in 2021 to deliver another fruitful year for the eighth consecutive year. So in the coming weeks, AATV is worth watching.
Key Quote
CEO J. Michael Heil states: "2021 was a solid year for revenue and profitability. Our focus on underserved Tier 2 and Tier 3 markets in the U.S. has provided us with a constantly expanding customer base, and we anticipate that demand for our services will continue to increase. The upcoming launch of our new technology that is currently being developed will capture an important new segment of the constantly evolving digital T.V. ad sector. We expect this new market segment to increase our revenues, further developing a more balanced performance in future years. Revenues during the first three months of 2022 are on track to further improve our financial performance with the expectation of a stellar 2022.
Technical Data
AATV stock is trading above the 20-Day and 50-Day Moving averages of $0.53 and $0.50 respectively. However, the stock is trading below the 200-Day moving average of $0.63.