This past Friday investors in the company Elvictor Group Inc (OTCMKTS:ELVG) had a pretty tough time in the markets as the stock tanked by as much as 18% amidst a heavy selloff.
Trading Data
On Friday, ELVG stock slid 18% to $0.0550 with more than 43K shares, compared to its average Friday of 92.4k shares. The stock moved within a range of $0.0550 – 0.0550 after opening trade at $0.0550.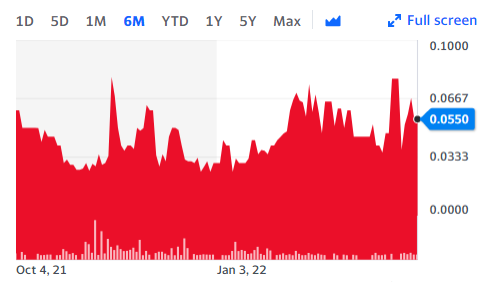 Earnings Recap
Back on April 1 the company was actually in the news after it announced that back on March 31, 2022 it had submitted the filing for its operating and financial results for the fiscal year that had ended on December 31, 2021. In this situation, it could be a good idea for investors to perhaps consider taking a look at the highlights from the financial results and then make their minds up about the stock.
Evictor managed to generate revenues to the tune of as much as $2,387,020 in the 2021 fiscal year and that reflected a whopping rise of as much as 412% from the revenues of $466,658 in the previous fiscal year.
On the other hand, Evictor also managed to bring in gross profits to the tune of $1,367,249 and the gross profit margin for the fiscal year stood at 57.3%. That reflected a year on year rise to the tune of as much as 1299%. It now remains to be seen if the stock can make a recovery this week.
Key Quote
Konstantinos Galanakis, Chief Executive Officer of Elvictor stated, "We are pleased with the operating results achieved during 2021, marking a significant increase of the Company's Revenue which we expect to continue in 2022. As new clients are onboarded, and current clients increase their fleet, we believe that we will be able to improve our profitability margins through the realization of economies of scale.
Technical Data
ELVG stock is trading above the 20-Day and 50-Day Moving averages of $0.0519 and $0.0535 respectively. However, the stock is trading below the 200-Day moving average of $0.0796.