It has been a fairly harrowing time for investors in Allied Corp (OTCMKTS:ALID) over the past week as the company's stock has performed poorly and tanked by as much as 21% during the period. That being said, the company actually made a key announcement yesterday and it may well be the right time for investors to consider taking a look into it.
Trading Data
On Monday, ALID stock fell 0.05% to $0.9995 with more than 27K shares traded, compared to its average Monday of 15k shares. The stock moved within a range of $0.9900 – 1.0700 after opening trading at $1.07.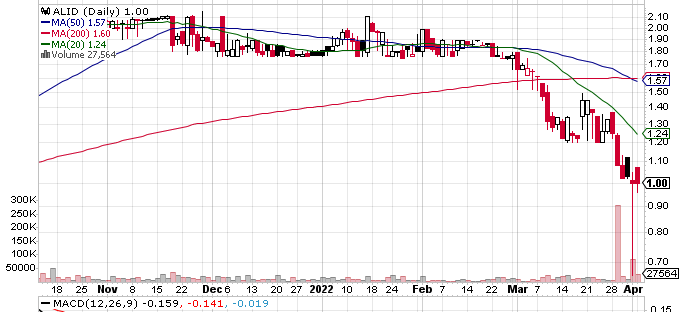 Allied Corp Commends Colombian Government for Announcing the Final Approval of the Regulations for the Export of Cannabis From Colombia
The company announced yesterday that thanked the authorities for the final approval in relation to Regulation 227 by the Columbian Government. The regulation in question deals with the technicalities related to the export of cannabis flower from the country.
It could well prove to be a major breakthrough for Allied Corp and it is now going to be interesting to see if the company's stock comes on to the radars of investors or not. It was back in July last year that the President of Columbia had signed the decree which ended the prohibition on the export of cannabis from the country. Earlier on in the month on April 1 the technical guidelines for export had been given the final approval by the government. It could be a good move to add the stock to your watch lists.
Key Quote
"Dried cannabis flower is the fastest growing product segment of the multi-billion dollar global cannabis industry (Source: Fortune Business Insights). Unlike processed products such as isolate, high quality cannabis flower must come to market with the aesthetics and terpene/cannabinoid profile that the customer wants. This is where Allied excels. We are excited to immediately take action with our first shipments of cannabis flower from Colombia to international markets," said Mr. Calum Hughes, CEO and Chairman of Allied Corp.
Technical Data
ALID stock is trading below the 20-Day and 50-Day Moving averages of $1.26 and $1.57 respectively. Moreover, the stock is trading below the 200-Day moving average of $1.60.