In recent times, Artificial Intelligence Technology Solutions (OTCMKTS:AITX) has emerged as an important player in the artificial intelligence space and the stock got attention too.
Trading Data
On Monday, AITX stock ended flat at $0.0152 with 13.92 million shares, compared to its average volume of 24.72 million shares. The stock moved within a range of $0.0150 – 0.0157 after opening trade at $0.0155.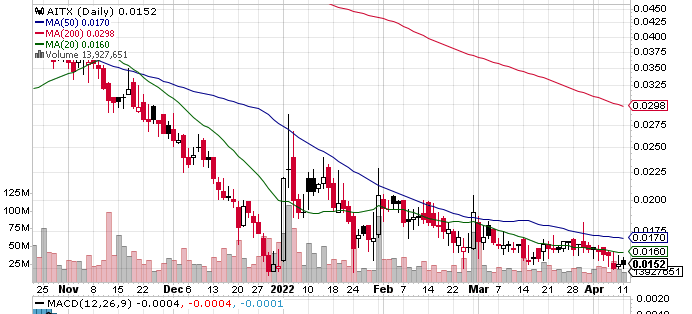 Latest News
Yesterday, the stock may have been trading within a range but it could be a good idea for investors to consider taking a look at a key announcement from the company last Thursday. The company announced that its fully owned subsidiary unit Robotic Assistance Devices had managed to get an order for as many as 4 of its ROSA Security robot units from one of the biggest energy companies in the United States.
The name of the company has not been revealed but it was noted that it is privately held. However, it ought to be noted that the fact that a major energy company placed those orders was a major development for Robotic Assistance Devices and for the parent company Artificial Intelligence Technology Solutions.
It may now be a good idea for investors to keep an eye on the stock and also wait for any forthcoming news with regards to the company in the coming days. You could do well to add Artificial Intelligence Technology Solutions to your watch lists.
Technical Data
AITX stock is below the 20-Day and 50-Day Moving averages of $0.0160 and $0.0170 respectively. Moreover, the stock is trading below the 200-Day moving average of $0.0298.