Cortexyme Inc. (NASDAQ:CRTX) dropped 18% last week. The clinical-stage biopharmaceutical firm that is pioneering upstream therapy approaches to enhance the lives of individuals with degenerative diseases has presented the latest biomarker and engagement dated from the GAIN Trial.
Trading Data
On Thursday, CRTX stock fell 3.32% to $4.66 with more than 381K shares traded, compared to volume of 776k shares. The stock moved within a range of $4.4600 – 4.8500 after opening trading at $4.85.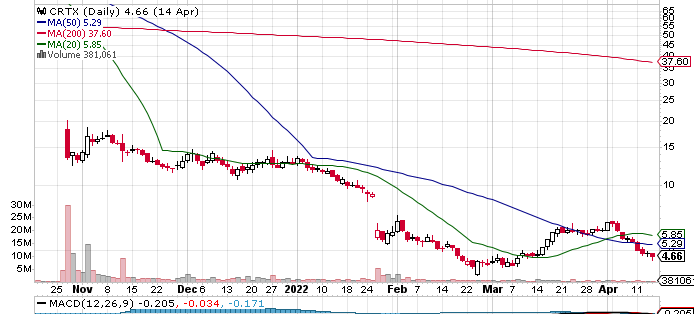 Cortexyme Provides New GAIN Trial Data at AD/PD 2022 Demonstrating Potential Benefit of Lysine Gingipain Inhibition in Mild to Moderate Alzheimer's Population
The company presented the data at the AD.PD 2022 International Conference on Alzheimer's and Parkinson's Diseases. The effects of lysine gingipain suppression on neurodegenerative and some other Alzheimer's disease indicators are still being studied. According to the findings, the company's target, P. gingivalis, could play a significant upstream function in both these areas, and the correlation of P. gingivalis biomarkers with clinical assessments implies that the ability to block this target could lead to better patient outcomes.
The above additional findings from the GAIN Study offer essential insights to help the company advance its gingipain inhibitor product pipeline, broadening and supporting scientific proof of the target and atuzaginstat's mode of action, as well as assisting us in better identifying which sick people are more likely to benefit from it. So, CRTX is worth watching.
Key Quote
"Our understanding of the impact of lysine gingipain inhibition on neurodegeneration and other Alzheimer's disease markers continues to expand. The evidence demonstrates our target – P. gingivalis – may play a key upstream role in both of these areas, and correlations between P. gingivalis biomarkers and clinical assessments show that our ability to inhibit this target potentially leads to improved patient outcomes," said Michael Detke, MD, PhD, Cortexyme's chief medical officer.
Technical Data
CRTX stock is trading below the 20-Day and 50-Day Moving averages of $5.51 and $5.29 respectively. Moreover, the stock is trading below the 200-Day moving average of $37.60.