Alternet Systems Inc. (OTCMKTS:ALYI) is moving in a range following a shareholder update from its CEO Randel Torno after the recent release of the 2021 annual report. The company was established with the goal of an electric transport future. Randell explained that the company began as an idea and has considerably transitioned to a sustainable business built on the adaptability and resilience of the people behind the concept-to-production mission.
Trading Data
On Wednesday, ALYI stock ended higher by 1.22% to $0.0083 with more than 5.79 million shares, compared to volume of 10.32 million shares. The stock moved within a range of $0.0079 – 0.0084 after opening trade at $0.0081.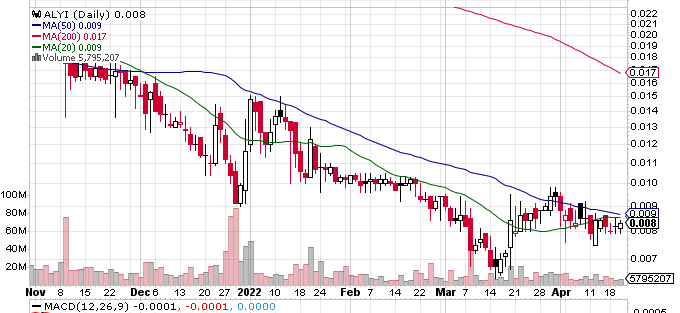 ALYI Plans To Triple $2 Million EV Book Of Business Reported In 2021 – CEO Details Latest Developments With PJET, WPUR And Other EV Ecosystem Partners
The company hits a milestone in 2021 by generating its first revenue from electric vehicle sales in addition to its historic consulting revenue. The CEO said that the company's annual report includes a $2 million electric motorcycle order, and the first revenue for the order has been included in the financial report.
The company is optimistic that it will continue adding revenue from the contract throughout the year. Most importantly, the client engagement approach and business model the company introduced to win the contract will serve as a template for other engagements. So in the coming weeks, investors should watch ALYI.
Technical Data
ALYI stock is trading above the 20-Day and 50-Day Moving averages of $0.0084 and $0.0086 respectively. However, the stock is trading below the 200-Day moving average of $0.0168.