Distributor of CBD and unique CBD products sold in Switzerland and across Europe, CBD of Denver (OTCMKTS:CBDD) on May 3, 2022, announced expansion into German medical cannabis market with hiring of Bijan Hezarkhani for leading the company's growth in thefast-growing European market.
Trading Data
On Tuesday, CBDD stock moved down 2.63% to $0.0037 with more than 8.54 million shares, compared to its average volume of 13.64 million shares. The stock moved within a range of $0.0033 – 0.0040 after opening trade at $0.0038.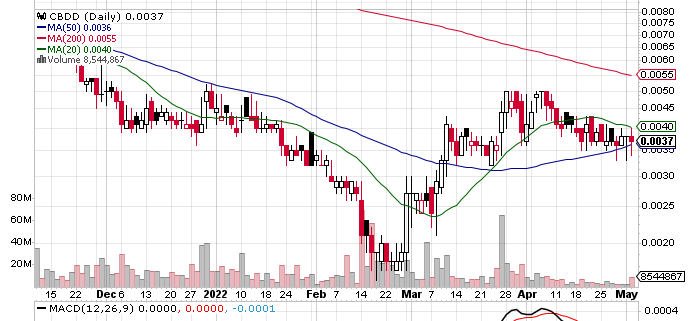 Bijan has much experience in cannabis industry including making medical cannabis franchise in Germany. He was the BD manager for Khiron Life Sciences for the three years, visiting doctors as well as pharmacies in Germany for building the business. He had earlier spent time at Canopy Growth as a business analyst covering Europe. He will be the head of the firm's medical cannabis sales in Germany and will be based in Frankfurt.
Germany approved medical cannabis in 2017 and is the largest medical cannabis market in the continent generated about US$300 million of revenue in 2021. The German market is moving towards adult-use legalisation, a market of four hundred tonnes annually.
Germany is an alluring market for cannabis. CBD of Denver opines that leaders in German adult-use market will be the firms having exposure to legal market.
CBD of Denver CEO Paul Gurney said that it is a seismic moment in the history of the firm. Gurney added that expansion into German medical cannabis market is key part of the new strategy to diversify revenue streams.
Technical Data
CBDD stock is below the 20-Day and 50-Day Moving averages of $0.0039 and $0.0036 respectively. Moreover, the stock is trading below the 200-Day moving average of $0.0055.