This morning many investors are likely to be focussed on the American Green Inc (OTCMKTS:ERBB) stock which had come into focus in a big way this past Friday and clocked gains of as much as 9%. In this situation, it could be a good idea to take a look at the announcement that was made by the company on Friday.
Trading Data
On Friday, ERBB stock went up 9% to $0.0031 with more than 6.02 million shares traded, compared to volume of 12.72 million shares. The stock moved within a range of $0.0028 – 0.0034 after opening trading at $0.0030.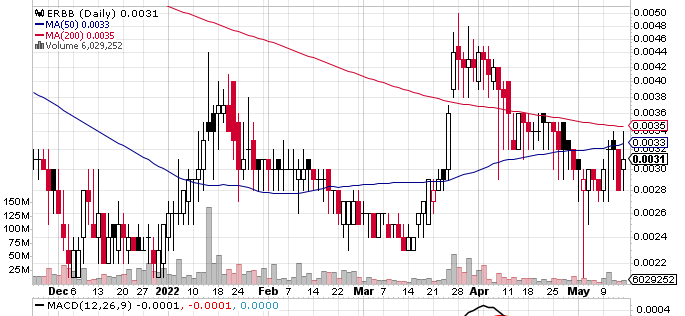 American Green, Inc Board Votes to Exercise Its Option to Buy 40,000 Square Foot "Cypress Chill" Cannabis Building for $3,750,000
American Green announced on May 13 that its board had approved the move to acquire a building spanning area of 40000 square feet at the Cypress Hill plant that the company operates out of. It should be noted that the acquisition is going to be made as per the provisions in the lease agreement with the landlord that American Green already has in place.
It was a significant new announcement from the company and one that may have led to considerable excitement among investors as a consequence. The landlord in question has agreed to the sale and in addition to that, the waiting period of as many as 90 days that had been in place has also been waived. It now remains to be seen if the American Green stock can manage to add to its gains today.
Key Quote
"American Green is extremely excited to take advantage of this fantastic opportunity to own its own cannabis grow facility. Over the last 3 months, we have consulted with a number of real estate professionals involved in the cannabis real estate market here in our home state of Arizona, and they have provided compelling studies and facts showing that now would be a great time to purchase the building on which the company has already begun construction under its existing lease agreement with the building owner. Commercial real estate prices in the Phoenix area – especially cannabis-approved commercial buildings – have gone up in value since American Green signed its lease with the option to buy the building last year," said David G. Gwyther, president of American Green.
Technical Data
ERBB stock is trading below the 20-Day and 50-Day Moving averages of $0.0032 and $0.0033 respectively. Moreover, the stock is trading below the 200-Day moving average of $0.0035.