When it comes to finding success as a stock market investor, it is imperative for investors to find stocks before they actually breakout and hence, one needs to be fairly clued in about the market. One of the stocks that could be on the verge of having a strong breakout is the Kaival Brands Innovations Group (NASDAQ:KAVL) stock.
The stock was on the radars of investors on Tuesday and had managed to clock gains of as much as 11.98% for the day. Hence, it could be a good idea now for investors to take a closer look at the company's business.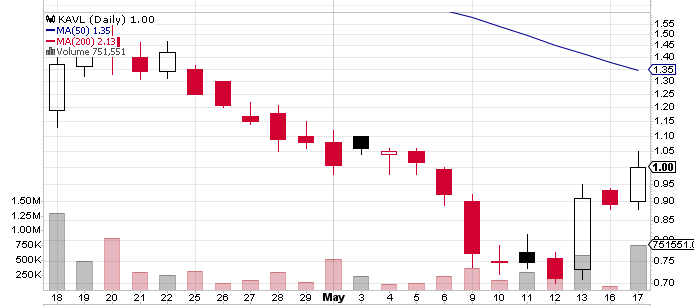 While it is true that cash burn may be a cause for worry for many investors, it should be noted that things seem to be in control. In January this year, the company reported that it had $5.6 million as cash balance and more importantly, had no debts.
It had burned through $6 million in the previous 12 months and hence, it still had enough to conduct its business for the next 12 months. An analyst had even suggested that the company would actually break even in 20 months If that happens then it could only be a major positive for the business.
One of the major worries with regard to Kaival Brands is that the company's operating revenues declined by a staggering 78% last year and such a drop can often prove to be bad news for investors.
However, it is the future that investors have to be worried about and in that context, it could be a good idea to remember that analysts believe that the revenues are going to move in the right direction over the coming years. It may be a good time for investors to start tracking the Kaival Brands stock a bit more closely.