Biopharmaceutical company NightHawk Biosciences (NYSEAMERICAN:NHWK) was one of the many companies which announced its financial results for the first quarter yesterday.
Trading Data
On Tuesday, NHWK stock went up 11% to $2.45 with more than 106K shares, compared to its average volume of 155K shares. The stock moved within a range of $2.1700 – 2.4600 after opening trade at $2.25.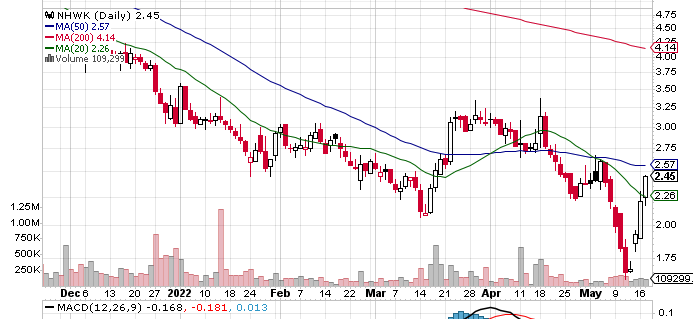 NightHawk Biosciences Provides First Quarter 2022 Business Update
The numbers for the quarter that ended on March 31, 2022 seemed to have come as a source of optimism for investors as well and the NightHawk stock ended the day with gains of as much as 11%. The Chief Executive Officer of the company Jeff Wolf also spoke about the performance in a statement. He noted that NightHawk had made major progress during the first quarter as it seeks to become a fully integrated biopharmaceutical entity.
The company announced that it got as much as $0.2 million in the form of new grant revenues and for a biopharmaceutical company that was significant. In the first quarter, the research and development expenses stood at $3.9 million and that was higher than the $3.4 million in expenses under the same overhead in the prior year period.
The rise in the expenses had mainly been brought about by investigator site payments and consultations with regards to regulatory issues. General and administrative expenses actually declined to $3.8 million from $4.8 million in the prior year period.
Key Quote
Jeff Wolf, Chief Executive Officer of NightHawk, commented, "We are extremely proud of the progress we have made this quarter to transition NightHawk into a fully-integrated biopharmaceutical company. On the business front, this month we announced the name change to NightHawk Biosciences to better reflect our evolution towards a fully integrated ecosystem that enables more rapid delivery of medical innovations with increased quality and efficiency. The NightHawk ecosystem includes an expanded development pipeline and enhanced manufacturing capabilities around five key subsidiaries: Skunkworx Bio, Heat Biologics, Pelican Therapeutics, Elusys Therapeutics and Scorpion Biological Services."
Technical Data
NHWK stock is below the 50-Day and 200-Day Moving averages of $2.57 and $4.14 respectively. However, the stock is trading above the 20-Day moving average of $2.26.