The past month has been a pretty difficult one for investors in the financial technology company Triterras Inc (OTCMKTS:TRIRF) considering the fact that its stock tanked by as much as 16% during the period.
Trading Data
On Friday, TRIRF stock fell 2.26% to $1.30 with 9K shares, compared to its average volume of 34K shares. The stock moved within a range of $1.2100 – 1.4000 after opening trade at $1.21.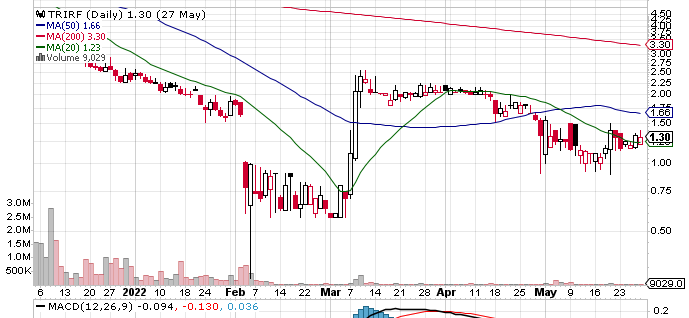 Triterras Schedules Fiscal Year-End 2022 Conference Call for Tuesday, June 28, 2022, at 8:15 a.m. ET
The selloff in the stock may have been sharp but at the same time, it ought to be noted that back on May 27 Triterras had come into focus following a key announcement. The company announced on that day that it was going to announce its financial results for the period that ended on February 28, 2022 on June 28, 2022. The financial results would be announced before the opening of the markets on that day.
In addition to that, Triterras also announced that it was also going to host a conference call regarding the financial results on the same day at 8-15 in the morning Eastern Time. At the conference call, the management would come up with operational and business updates. It is now going to be interesting to see if the stock gets any kind of attention from investors in the lead-up to the big day or not. It could be a good idea to keep it in your sights.
Technical Data
TRIRF stock is trading below the 20-Day and 50-Day Moving averages of $1.31 and $1.66 respectively. Moreover, the stock is trading below the 200-Day moving average of $3.30.