Nevada registered company Global Tech Industries Group Inc (OTCMKTS:GTII) saw its stock suffer from a bit of a selloff yesterday as it ended the day with a decline of as much as 3%. Yesterday, the company was in fact in the news after it announced that it was continuing with the counting related to the shareholder requests for the dividends that were going to be paid out through ShibuInu tokens.
Trading Data
On Wednesday, GTII stock fell 3.16% to $1.53 with more than 24K shares, compared to its average volume of 151K shares. The stock moved within a range of $1.5000 – 1.5605 after opening trade at $1.56.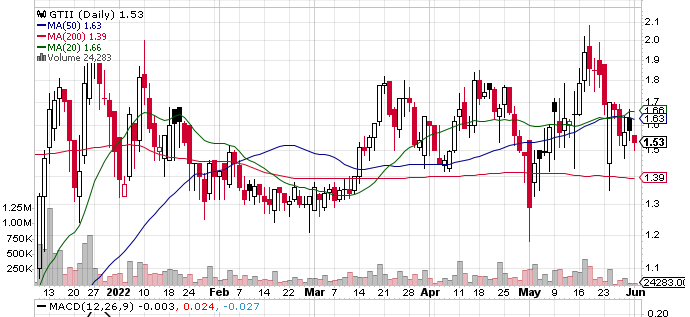 Global Tech Industries Group, Inc. continuing count of shareholder requests for digital dividend; anomalies found
The request had been coming to Liberty Stock Transfer Inc, which is the transfer agent of Global Tech Industries Group. It is also necessary to note that such a dividend payout had actually been announced by the company previously and hence the requests at this point.
The requests had been coming in since May 9, 2022. As the count continues, it is perhaps important to point out that the shareholders of record have reported a number of anomalies with regards to the whole thing. For instance, discrepancies have been found with regard to what the shareholders have reported and the actual number of shares that they held in their brokerage accounts. It remains to be seen how long it takes for Global Tech Industries Group to take care of the issue.
Technical Data
GTII stock is trading below the 20-Day and 50-Day Moving averages of $0.0002 1.65and $1.63 respectively. However, the stock is trading above the 200-Day moving average of $1.39.