Shares of 374Water (OTCMKTS:SCWO) have been trading within a narrow range over the past few sessions. here are key developments.
Trading Data
On Monday, SCWO stock moved up 15.38% to $3 with more than 34K shares, compared to its average volume of 7K shares. The stock moved within a range of $2.3500 – 3.2500 after opening trading at $2.35.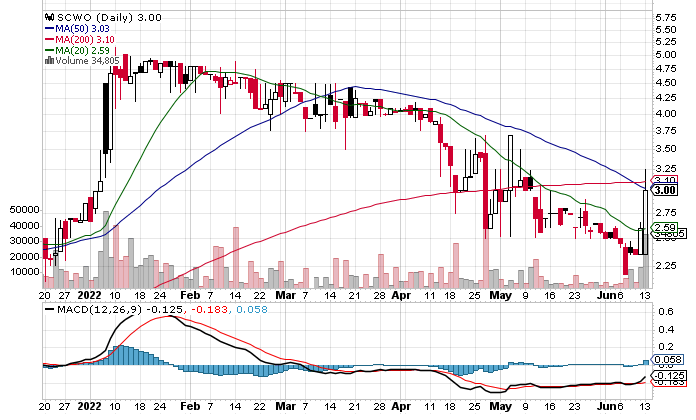 About 374Water
Global cleantech, social impact company, 374Water (OTCMKTS:SCWO), with a mission of preserving a clean and healthy environment, is pioneering a new era of sustainable waste management supporting a circular economy. It also enables companies to achieve their sustainability goals. The company is looking to significantly change how society manages waste by using a disruptive technology moving from treatment and disposal to resource recovery and elimination.
374Water to Begin Trading on Nasdaq
374Water on June 13, 2022, announced that the firm's common stock has been approved for listing on NASDAQ. Trading of the firm's shares will commence on June 14, 2022, under the symbol "SCWO".
Kobe Nagar, CEO of 374Water Inc said that Nasdaq was the natural choice being the home of technology companies destinated to move society ahead. The CEO added that 374Water's Nasdaq listing will ensure long-term shareholder value through higher visibility as well as improved trading liquidity along with addressing surging demand for sustainable waste and water management.
"Nasdaq was our natural choice and the home of technology companies that are destined to move society forward," said Kobe Nagar, CEO of 374Water Inc. "374Water's Nasdaq listing will build long-term shareholder value through increased visibility and improved trading liquidity, while addressing the growing demand for sustainable water and waste management."
374Water to Engage ESG Investors in the 8th Annual Roth London Conference
Earlier, 374Water had announced that the management will be participating in the 8th Annual Roth London Conference on June 21-23, 2022 London, England. The firm's participation follows third-party validation as well as momentum from some recent announcements.
These announcements include Orange County Sanitation of Fountain Valley, California, purchasing 374Water AirSCWO system. This is part of an agreement to demonstrate a commercial-scale system for treating raw primary and secondary sludge, biosolids as well as food waste.
Furthermore, the Israeli's Ministry of Energy along with the US Department of Energy and Israel Innovation Authority, have selected 374Water and Environmental Services Company, Ltd for conducting a cleantech project through the Binational Industrial Research and Development Energy program. ESC and 374Water will be adapting and deploying an AirSCWO Nix6 system for harnessing energy and resource recovery from hazardous organic waste using supercritical water oxidation. The $3.5M USD project will expedite technology innovation on the energy-water nexus. In this, BIRD Energy will be contributing $900,000 USD.
374Water's revolutionary AirSCWO technology converts waste to water, recoverable energy as well as minerals. It also removes organic pollutants including "forever" chemicals such as PFAS.
Technical Data
SCWO stock is trading below the 50-Day and 200-Day Moving averages of $3.03 and $3.10 respectively. However, the stock is trading above the 20-Day moving average of $2.63.