Yesterday, Hero Technologies Inc (OTCMKTS:HENC) emerged as one of the more notable movers in the market in the cannabis sector, and this morning many investors are likely to look into the stock a bit more closely. The stock had garnered considerable attention and saw frenetic action to clock gains of as much as 32.35%.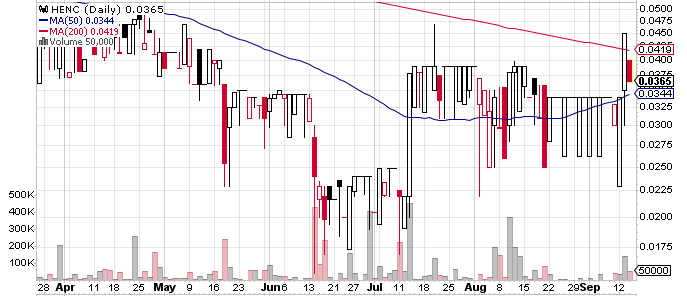 Market Stats
On Tuesday, HENC stock was in action and skyrocketed 32.35% to $0.0450 with over 140K shares traded, compared to its average volume of 61K shares. The stock moved within a range of $0.0300 – 0.0450 after opening trading at $0.0350.
In addition to that, the trading volume had also been 2.5 times the average daily volume. Before delving into the actual news that set off the fireworks yesterday, it may be a good time to first get an idea about the nature of the company and its business.
Hero Technologies is a cannabis firm that is looking to build a vertically integrated operation. It also owns a majority stake in the firm BlackBox Systems and Technologies LLC. BlackBoxhas managed to create an aeroponic cannabis cultivation system that can make harvesting far more efficient.
Eventually Hero Technologies seeks to become a multi-state cannabis operator and yesterday, the company made a major announcement on that front. Hero announced that it was aggressively looking into opportunities for acquiring land in the state of Michigan in order to eventually become a 'seed to sale' vertically integrated cannabis operation.
The company noted that it was looking to purchase as much as 10 acres of land in Michigan and it wishes to turn that land parcel into the base of its operations in that particular state. Gina Serkasevich, who is the Chief Executive Officer of the company, also noted that Hero was looking to make Michigan a major part of its growth strategy.
She noted that regulatory data revealed that the sale of legal cannabis in the state was expected to grow at a rate of 50% in 2022 and hit $2.7 billion. This was the first step to creating an end-to-end vertically integrated operation.
Traders Corner
HENC stock is trading above the 20-Day and 50-Day Moving averages of $0.0349 and $0.0341 respectively. Moreover, the stock is trading above the 200-Day moving average of $0.0421.