Pharmaceutical company developing synthetic cannabinoid derivatives for treating glaucoma and other diseases, Skye Bioscience Inc (OTCMKTS:SKYE) on October 1, 2022, reported that its stockholders voted in favor of all proposals. These were presented at a special meeting and included a proposal to approve the proposed acquisition of Emerald Health Therapeutics, Inc.
Trading Data
On Friday, SKYE stock moved down 3.35% to $0.0260 with more than 257.90K shares, compared to its average volume of 632.78K shares. The stock moved within a range of $0.0250 – 0.0270 after opening trade at $0.0270.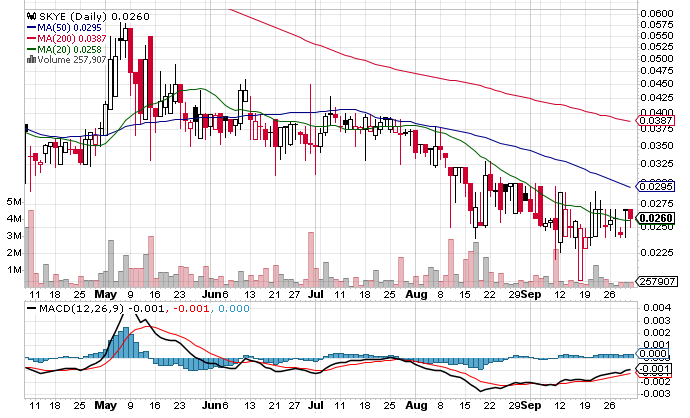 Skye Bioscience Stockholders Vote in Favor of Arrangement Agreement with Emerald Health Therapeutics, Inc.
It is estimated that 74% of shares outstanding were represented in person or proxy. Stockholders even voted in favor of establishing the Stock Purchase Plan, approving Skye's Amended and Restated 2014 Omnibus Incentive Plan. Furthermore, they ratified the appointment of Friedman LLP as SKYE's independent registered public accounting firm.
Shareholders of EHT agreed on an Arrangement with Skye on August 19, 2022. Both EHT and Skye will work on closing the Arrangement and plan on proceeding with the closing soon following conditional listing approval from the Canadian Securities Exchange.
Punit Dhillon expressed gratitude to the stockholders for the broad voting participation in the special meeting as well as for the resounding vote favoring the Arrangement Agreement with EHT.Dhillon also said that the support of the merger with EHT will give the firm extra financial resources for extending the operating runway to fund Phase 1. Furthermore, it will fund the Phase 2 study, preparations for which are being done in the Investigational New Drug application. This is being submitted to FDA by end of the year.
Technical Data
SKYE stock is trading below the 20-Day and 50-Day Moving averages of $0.0263 and $0.295 respectively. Moreover, the stock is trading below the 200-Day moving average of $0.0387.