Over the course of the past months, Halberd Corporation (OTC:HALB) has been one of the companies in the healthcare sector to have made headlines for its stellar work in the research and development areas. The company's stock was in focus yesterday among investors and ended up with gains of as much as 30.95% for the day.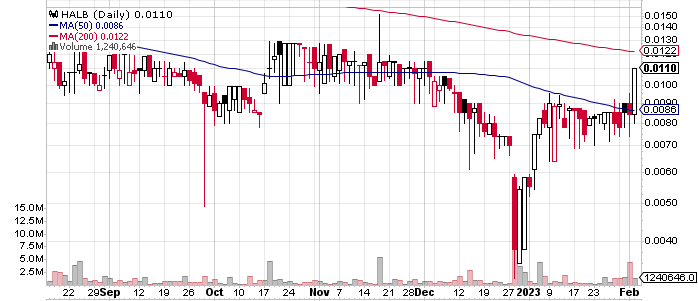 In light of such gains, it could be a good idea for investors to take a look at the key development from earlier on in the week on January 31. The company announced that animal testing that is going to be focused on Halberd's nasal spray meant for treating patients who have suffered from Traumatic Brain Injury was going to take place at Mississippi State University.
The product, which is still at a patent pending stage, can be administered right after a head injury. The animal testing is going to take place at the College of Veterinary Medicine at Mississippi State University and the whole process is going to be conducted over the course of several months.
It is going to be overseen by Dr. Russell Carr at the university. It was a major new development for the company and comes sometime after the company had demonstrated that its product could remove all head trauma-associated antigens in an in-vitro study that had been conducted at Youngstown State University.
On the other hand, investors would also be interested to note that the financing with regards to the study had already been collected. The Chief Technology Officer at the company Dr. Michael S Slater spoke about the collaboration as well.
He noted that everyone at the company had been impressed by the sort of protocols that had been put in place by the professors at the university with regards to animal testing.