The leading horizontal platform for cell programming firm Ginkgo Bioworks Holdings Inc (NYSE:DNA) could be the one to track this morning considering the fact that its stock clocked gains of as much as 11% on Wednesday.
Trading Data
On Wednesday, DNA stock gained 11% to $3.83 with more than 20.97 million shares, compared to its average volume of 17.39 million shares. The stock moved within a range of $3.4200 – 3.8800 after opening trading at $3.42.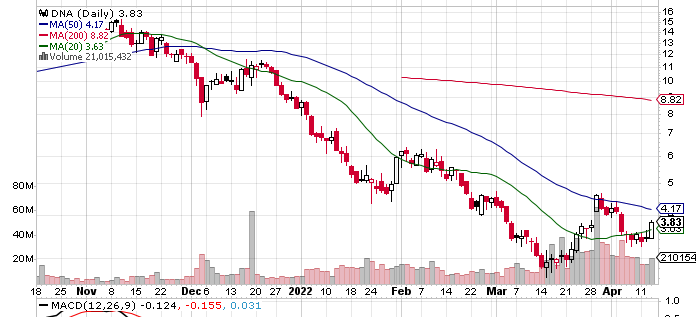 FREDsense and Ginkgo Bioworks Announce Partnership to Develop Water Quality Biosensors
Yesterday the company came into focus in a big way after it announced that it had gone into a partnership with the major horizontal cell programming platform FREDsense Technologies Corp. The company announced that by way of this partnership the two entities are going to work on the development of biosensors that will be meant for monitoring water quality and detection.
It was a major new announcement from the company and it was quite clear that investors were excited at the prospect of the new venture as well. It was further noted that through this partnership with FREDsense Technologies Corp, Gingko is looking to develop as many as four new biosensors which are compatible with the hardware that is built by FREDsense.
At this point in time, it may be a good idea for investors to consider adding the stock to their watch lists and continue to watch for further developments on this front. If will be interesting to see if the stock can add to its gains today.
Key Quote
"Water is our most critical resource, and we now have the technology to detect in real-time many of the threats or contaminants that can impact the water that our environments and communities depend on," says David Lloyd, CEO of FREDsense. "Through this partnership with Ginkgo, we aim to introduce rapid, simple and accurate testing to deliver water quality monitoring systems to those that most need it. We believe that synthetic biology is the key to solving some of the biggest challenges facing the water industry globally and are very excited to partner with Ginkgo on this vision."
Technical Data
DNA stock is trading below the 50-Day and 200-Day Moving averages of $4.17 and $8.82 respectively. However, the stock is trading above the 20-Day moving average of $3.69.