Meten Holding Group Ltd (NASDAQ:METX) is down 16% in a week. The omnichannel training firm based in china that offers workplace and language training services has offered an update regarding its metaverse vocational education courses.
Trading Data
On Wednesday, METX stock moved down 2.80% to $0.1291 with 114.43 million shares, compared to its average volume of 17.01 million shares. The stock moved within a range of $0.1251 – 0.1688 after opening trade at $0.16.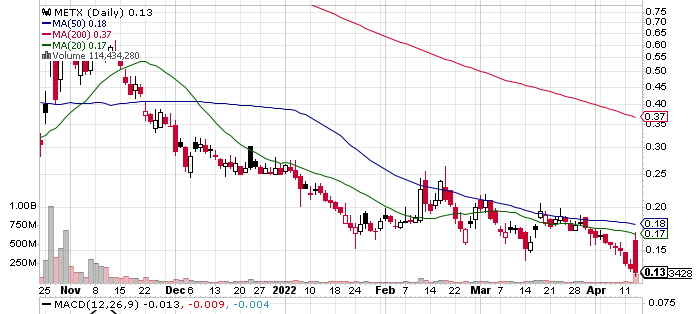 Meten Holding Group Ltd. Provides Updates on Its Metaverse Vocational Education Courses
The company, as previously disclosed, began a trial of the metaverse vocational classes in December 2021, which encompass a variety of topics, including video post-production, architectural visualization, game rendering, UI/UX design, interior design, and Building Information Modeling application.
The company attained a gross billings of RMB10 million (roughly $1.57 million) from the vocational courses in Q12022, amid the upsurge of the coronavirus pandemic in China, and it anticipates near-term growth prospects, as the Trainings have been initiated in a handful of cities, including Guangzhou, Shenzhen, and Nanjing.
The courses have been tailored to those with no prior experience in visual design that want to begin a career in this sector and visual design experts seeking enhanced training. So METX is worth watching in the coming weeks.
Key Quote
Mr. Alan Peng, Chief Executive Officer of Meten Holding Group, commented, "We are excited to achieve significant progress in launching the metaverse vocational education courses in the face of the challenging environment. With the rapid development of vocational education and increasing demand for talents, we believe vocational education is an integral part of the education industry and wish to help more students achieve their career goals. We will continue to launch the Courses in major cities in China, once the number of COVID-19 cases decline sufficiently. We expect to achieve a gross billing of RMB50 million (approximately US$7.86 million) from the Courses in the full year 2022, with the goal of cultivating 2000 visual design talents."
Technical Data
METX stock is trading below the 20-Day and 50-Day Moving averages of $0.16 and $0.18 respectively. Moreover, the stock is trading below the 200-Day moving average of $0.37.