Creatd (NASDAQ:CRTD) was up 33% following the announcement of an agreement for its wellness beverages company Dune Glow Remedy. As per the announcement, Dune will be accessible across all Urban Fitters (NASDAQ:URBN) outlets.
Trading Data
On Wednesday, CRTD stock soared 33% to $1.27 with more than 83.79 million shares, compared to its average volume of 1.86 million shares. The stock moved within a range of $0.9720 – 1.6400 after opening trade at $1.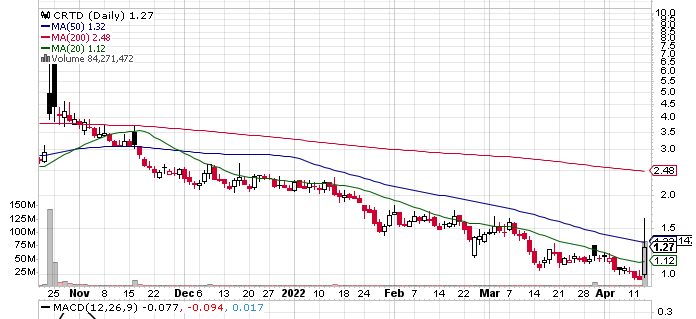 Dune, the Creatd-Owned Wellness Drink, Launches at Urban Outfitters
The beverages will be available at Urban Outfitters locations as part of the spring/Summer collection. According to the retailer, Dune is the perfect partner they were looking for ahead of the new season. Urban Fitters stated that Dune products have a great taste with nutritious ingredients delivering their goal and attractive packaging that motivated the retailer to stock them.
The CEO of Creatd and Dune founder Thomas Punch said they are delighted to witness Dune and Creatd's other e-commerce firms continue to gain traction and grow through partnerships with leading lifestyle brands such as OU. On Wednesday, the news boosted CRTD shared with over 45 million shares exchanging hands relative to the daily trading volume average of 5154,000 shares. So in the coming weeks, CRTD is worth watching.
Key Quote
Commented Thomas Punch, Dune founder and CEO of Creatd Ventures, "Less than a year after its debut, Dune has joined the competitive roster of beauty and wellness brands sold at Urban Outfitters. We are proud to see Dune, and Creatd Ventures' other e-commerce brands, continue to build traction and open up opportunities to further expand our reach through partnerships with such iconic and inspirational lifestyle brands as UO."
Technical Data
CRTD stock is trading below the 50-Day and 200-Day Moving averages of $1.32 and $2.48 respectively. However, the stock is trading above the 20-Day moving average of $1.14.