The past month has been a bit of a disaster for investors in the Akebia Therapeutics (NASDAQ:AKBA) stock as it suffered from an almighty selloff and went down by as much as 78%. In this context, it may be a good idea to take a look at some of the recent developments with regards to the company's potentially blockbuster product vadadustat last month.
Trading Data
On Thursday, AKBA stock moved down 8% to $0.5382 with more than 29.20 million shares, compared to its average volume of 8.59 million shares. The stock moved within a range of $0.4800 – 0.5480 after opening trade at $0.4920.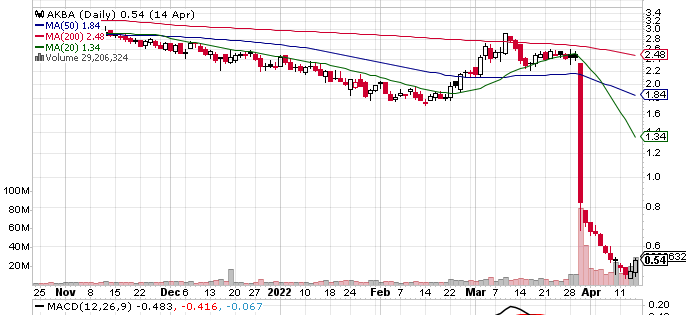 Latest News
Last month concerns about the safety of the product had completed derailed the approval process and has sent the Akebia stock into a tailspin. However, the company noted that it was going to go for a restructuring in order to arrest the situation.
To that end, it noted that it was not only going to go for some job cuts but also work on some of the deeper issues that it has encountered with the United States Food and Drug Administration regarding its product. If things improve dramatically for the product with regards to the concerns of regulators then the stock could make a turnaround eventually. However, at this point in time, it may be a good idea for investors to keep an eye on the latest developments and watch out for the price action.
Technical Data
AKBA stock is below the 20-Day and 50-Day Moving averages of $1.12 and $1.84 respectively. Moreover, the stock is trading below the 200-Day moving average of $2.48.