Last Thursday the Verastem Inc (NASDAQ:VSTM) stock had been in the middle of a major rally and had managed to end the day with gains of as much as 15% amidst heavy interest.
Trading Data
On Thursday, VSTM stock soared 15.70% to $1.77 with 30.07 million shares, compared to its average volume of 2.31 million shares. The stock moved within a range of $1.5700 – 2.1299 after opening trade at $1.59.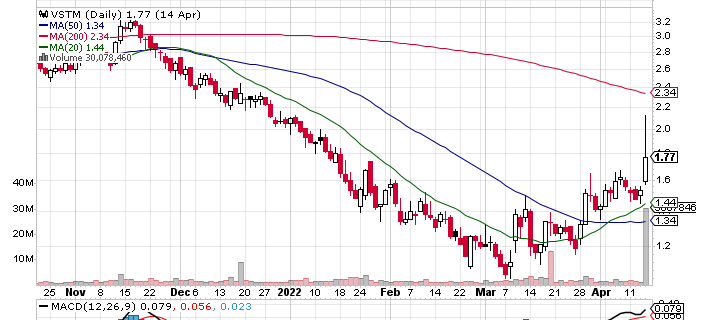 RBC Capital analyst Gregory Renza initiated coverage on Verastem with an "Outperform" rating.
The publication of a bullish research report can often come as a positive trigger for a stock and that is what happened with the Verastem stock as well. Gregory Renza, who is an analyst at RCB Capital, started covering the stock and gave it an 'outperform' rating. Such a bullish report led to the remarkable rally in the stock on Thursday and it remains to be seen if it can continue to add to its gains this week.
On the other hand, the price target for the stock was set at $5. Renza noted that VS 6766, which is the lead asset of the company could prove to be a unique RAF/MEK inhibitor. In light of the latest research report, it may be a good time for investors to consider adding the stock to their watch lists and keep an eye on the latest developments. It could be a good time to start keeping an eye on the news with regards to Verastem.
Technical Data
VSTM stock is trading above the 20-Day and 50-Day Moving averages of $1.48 and $1.34 respectively. However, the stock is trading below the 200-Day moving average of $2.34.