Entertainment technology company, Color Star Technology Co., Ltd. announced that its Singaporean subsidiary, Color Metaverse Pte. Ltd. has inked a strategic cooperation agreement with Versatile Music International Ltd. (to be referred to as Versatile Music).
Trading Data
On Tuesday, CSCW stock gained 6.10% to $0.1519 with 14.48 million shares, compared to its average volume of 8.68 million shares. The stock moved within a range of $0.1482 – 0.1724 after opening trade at $0.1482.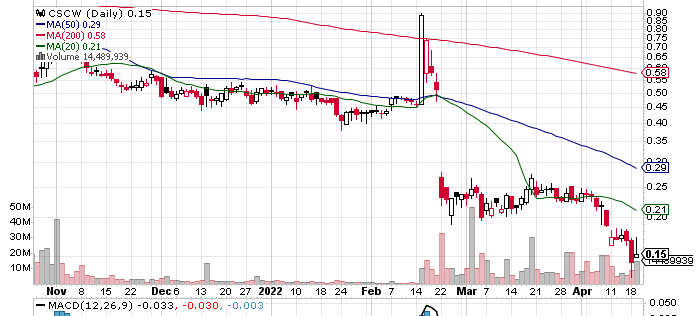 Color Star Sets Up Operations in Europe and Revenue of Digital Entertainment Will Increase from the European and American Markets
As a high-tech company, Color Star will cooperate deeply with Versatile Music in the field of online digital entertainment. The band of the British company Versatile Music, Versatile Brass, is one of the world's leading brass bands. They have had the honor of performing for His Royal Highness Prince Edward and His Holiness the Pope, as well as participating in various important performances and events.
Versatile Brass is all set to showcase their artistic talent and deliver legendary performances to users worldwide on the Color World metaverse platform. As per the cooperation agreement, Versatile Music will join the Color World metaverse platform and establish its own exclusive online company. Both parties are to produce online concerts and host celebrity masterclasses.
The above mentioned activities will help Color Star expand further into the European and American markets, thus attracting more European and American users to join the platform. On the other hand, Versatile Music will also use its influence in the UK to promote Color World. Based on Color World's current selection of celebrity courses, more famous celebrities from Europe and the United States will join the platform to become Color Star tutors in the future.
Key Quote
Lucas Capetian, CEO of Color Star, said: "The main goal of our cooperation with our numerous partners has always been to be mutually beneficial to both parties. This cooperation with Versatile Music allows both of our companies to have better business development by utilizing our respective resources and assets. At the same time, online digital entertainment and related products will also bring revenue. And through this, Versatile Music will help us attract more European and American users and business partners."
Technical Data
CSCW stock is trading below the 20-Day and 50-Day Moving averages of $0.20 and $0.29 respectively. Moreover, the stock is trading below the 200-Day moving average of $0.58.