Sun Pacific Holding Corp. (OTCMKTS:SNPW) has made an announcement that its wholly owned subsidiary, Sun Pacific Power Corp and PT. IDN SOLAR TECH. (IST) have signed an agreement to develop an 1GW per year solar manufacturing plant in the USA utilizing revolutionary technology currently being used by IST.
Trading Data
On Tuesday, SNPW stock surged 55% to $0.0130 with 50.86 million shares, compared to its average volume of 3.82 million shares. The stock moved within a range of $0.0093 – 0.0132 after opening trade at $0.0095.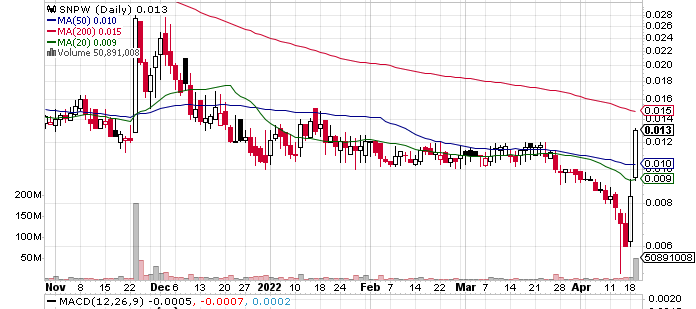 Key Details
As of now, the project is in discussions with different states for location and installation. The cutting edge processing will be done using local labor under supervision and training from IST. It will manufacture cost effective panels to boost the economy and job creation.
IST is presently producing 1GW of solar panels and 1GW of solar cells, which they plan to double within this year. Solar cells produced by IST will be utilized by the USA facility. They are actively engaged in sourcing raw components and capital with an end goal to sell to developers/EPC in large scale solar projects.
Additionally, they are launching their OEM panel production in Indonesia which is under way for the Sun Pacific Power brand while as they work on developing the USA factory. Depending upon ongoing negotiations, the construction of their plant in USA is being planned to utilize 20 square meters with 1GW production consisting of two 500MW fully automated solar panel production lines.
Key Quote
Nicholas Campanella, CEO of Sun Pacific Holding Corp, stated, "We are excited to work with "IST" in helping with this opportunity in the US. The arrangement with "IST" will help us with sourcing raw materials and provide knowledge for building our facility as well as foster further growth opportunities for our company. We look forward to using the considerable "IST" knowledge and expertise to develop various solar panels and designs that we have been working on for some time. This is projected to lead Sun Pacific to over 450 million in sales at full capacity and the creation of hundreds of jobs with the most advanced technologies to be deployed in the USA.
Technical Data
SNPW stock is above the 20-Day and 50-Day Moving averages of $0.0093 and $0.0104 respectively. However, the stock is trading below the 200-Day moving average of $0.0148.