Vertically integrated cannabis firm Cansortium Inc (OTCMKTS:CNTMF) did not have a great time in the markets yesterday as its stock suffered from a selloff and ended up with a decline of as much as 5%.
Trading Data
On Monday, CNTMF stock fell 4.55% to $0.0010 21 more than 975K shares, compared to its average volume of 266K shares. The stock moved within a range of $0.1894 – 0.2498 after opening trading at $0.2473.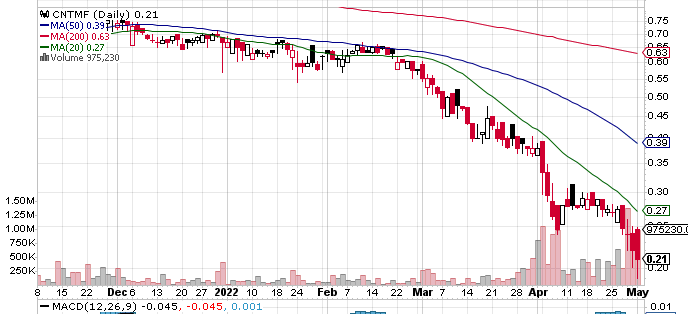 Cansortium Reports Preliminary Unaudited Q4/FY 2021 and Q1 2022 ResultsIn light of such a fall, it might be a good time to take a look at the announcement from the company that led to the fall. The company, which operates under the Fluent brand, was in focus after it announced its unaudited financial results for the fourth quarter as well as the fiscal year, both of which had ended on December 31, 2021.
In the fourth quarter, the revenues went up by 13% year on year to hit $16.5 million and on top of that the operating losses also went down considerably to $1.6 million from $9.7 million on a year on year basis. For the full year, the revenues came in at $63.7 million and that reflected a rise of 22% from the previous year when the company had generated revenues of $52.4 million.
On the other hand, the operating losses dropped to $2.4 million from $8.4 million. However, it seems that investors were expecting better numbers and that was perhaps the reason behind the decline in the Cansortium stock.
Key Quote
"We ended 2021 on a high note with record fourth quarter results, and our momentum has carried into the first quarter of 2022," said CEO Robert Beasley. "We have grown revenue sequentially every month between October 2021 and March 2022 due to both cultivation improvements across our facilities in Florida as well as new capacity coming online in December and February. We are now harvesting double the biomass per week compared to last year. The recent 4/20 holiday was also our strongest day of sales in company history, further reflecting our continued momentum into Q2. I cannot thank our team enough for their hard work over the past year to help us reach this inflection point.
Technical Data
CNTMF stock is trading below the 20-Day and 50-Day Moving averages of $0.28 and $0.39 respectively. Moreover, the stock is trading below the 200-Day moving average of $0.63.