Alkame Holdings Inc (OTCMKTS:ALKM), which operates as a diversified holding company, had come into considerable focus among investors yesterday and the company's stock had ended up with gains of as much as 28% for the day as a consequence.
Trading Data
On Wednesday, ALKM stock soared 28.60% to $0.0009 with more than 14.45 million shares, compared to its average volume of 21.86 million shares. The stock moved within a range of $0.0007 – 0.0009 after opening trading at $0.0007.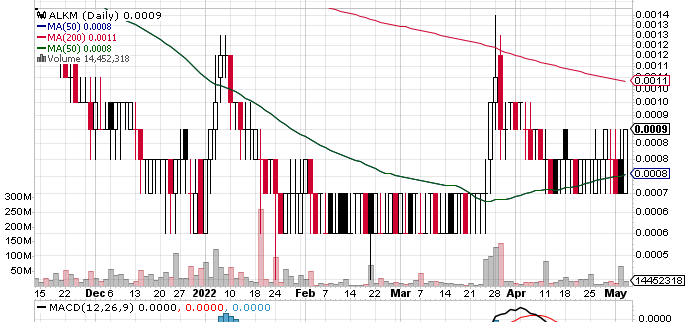 Alkame Signs Production Agreement with Largest Regional Independent Jam Company, Oregon Growers
In such a situation, it may be a good idea for investors to consider taking a look at the announcement from Alkame yesterday. The company announced that Bell Food & Beverage Inc, its fully owned subsidiary unit, had signed with Oregon Growers & Shippers LLC. Oregon Growers, which is based out of Hood River in Oregon, is one of the biggest independent preserve and jam companies in the region.
The latest agreement came as a source of considerable positivity for investors and that was fully reflected in the price action in the stock on Wednesday. It ought to be noted that since its establishment in 2004, Oregon Growers has been known for producing jam products directly from the farms and the products do not contain any preservatives or high fructose corn syrup.
In addition to that, the products are free from gluten and are non-GMO as well. It now remains to be seen if the Alkame stock can continue to add to its gains today or not.
Key Quote
"From the farm to the jar! We are happy to produce jams and preserves for Oregon Growers," stated Alkame CEO Robert Eakle. "Their client base includes Whole Foods, Safeway, Quality Food Centers (QFC), New Seasons Market among many others."
Technical Data
ALKM stock is trading above the 20-Day and 50-Day Moving averages of $0.0008 and $0.0008 respectively. However, the stock is trading below the 200-Day moving average of $0.0011.