Artificial intelligence powered measurement solutions firm MySize Inc (NASDAQ:MYSZ) was in sharp focus on Friday after it announced its financial results for the first fiscal quarter that ended on March 31, 2022.
Trading Data
On Friday, MYSZ stock gained 20% to $0.24 with more than 33.16 million shares, compared to its average volume of 1.10 million shares. The stock moved within a range of $0.2400 – 0.3700 after opening trade at $0.29.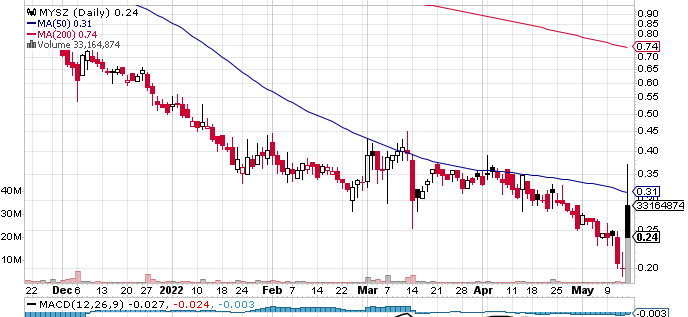 MySize Reports First Quarter Financial Results Highlighted by Record 1400% Growth to $404,000 Revenue in Q1 2022
The financial results seem to have come as a source of considerable optimism for investors and the MySize stock ended the day with gains of as much as 23%. In light of such gains, it may be a good time for investors to consider taking a look at some of the highlights from the company's financial results and then make their minds up about the stock.
The revenues for the quarter came in at $404000 and that reflected a year on year rise of a staggering 1400%. That being said, it is also necessary to note that the significant rise in revenues was driven by the acquisition of the company Orgad back on February 7.
In this regard, it is also necessary to note that MySize ID revenues had also gone up to $44,000, which reflected a year on year rise of as much as 63%. However, at the same time, the operating losses actually went up to $2,105,000, which worked out to a year on year rise of 39%.
Key Quote
Ronen Luzon, Chief Executive Officer of MySize, commented, "While it's early, we are extremely pleased with our acquisition of Orgad and the progress we have made since mid-February. We see opportunity to scale its business by being able to provide additional cash to bolster inventory and fuel more turnover in order to accelerate revenue growth. We believe Orgad has the potential to increase its inventory turnover by multiples over what it did in 2021."
Technical Data
MYSZ stock is trading below the 20-Day and 50-Day Moving averages of $0.26 and $0.31 respectively. Moreover, the stock is trading below 200-Day moving average of $0.74.