The week started off on a harrowing note for Majic Wheels Corp (OTCMKTS:MJWL) as the company's stock suffered from a devastating selloff and cratered by as much as 76% for the day.
Trading Data
On Monday, MJWL stock plunged 76.50% to $0.0099 with more than 26.06 million shares, compared to its average volume of 4.89 million shares. The stock moved within a range of $0.0003 – 0.0113 after opening trade at $0.0057.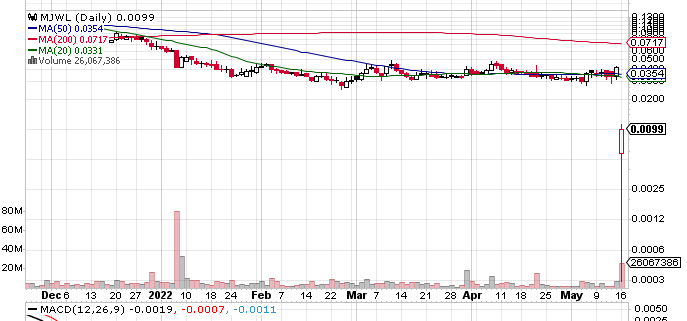 Majic Wheels Corp. Official Company Statement Regarding Caveat Emptor
In this situation, it could be a good idea for investors to take a look at the announcement that the company made yesterday and then have a clear understanding of the situation. The company sent out an official statement yesterday with regards to the Caveat Emptor status that had been placed on its stock ticker following the end of the trading period on May 13, 2022.
The company tried to reassure investors through its statement and noted that it was committed to its business strategies and objectives. In addition to that, Majic Wheels also noted that despite the fact that the status had been placed on its stock ticker, the situation at Majic Wheels remained business as usual.
It went on to note that it was going to announce its financial results for the first fiscal quarter of 2022 after the closure of markets on Monday. However, investors did not really take the statement seriously and that was evident from the price action in the stock.
Key Quote
David Chong, Majic Wheels Corp. CEO, comments: "We will update our shareholders and the wider public as soon as we receive relevant information from the authorities or OTC Markets. My colleagues and I are committed to resolving this issue as quickly as possible and are working through the 'CE issue' for the best possible outcome."
Technical Data
MJWL stock is trading below the 20-Day and 50-Day Moving averages of $0.0330 and $0.0354 respectively. Moreover, the stock is trading below the 200-Day moving average of $0.0717.