The beverage sector remains one of keen interest for many investors at this point and one of the stocks from the sector that you could consider following today is that Kona Gold Beverage Inc (OTCMKTS:KGKG).
Trading Data
On Tuesday, KGKG stock gained 8.33% to $0.0130 with more than 23.57 million shares, compared to its average volume of 43.47 million shares. The stock moved within a range of $0.0115 – 0.0134 after opening trade at $0.0123.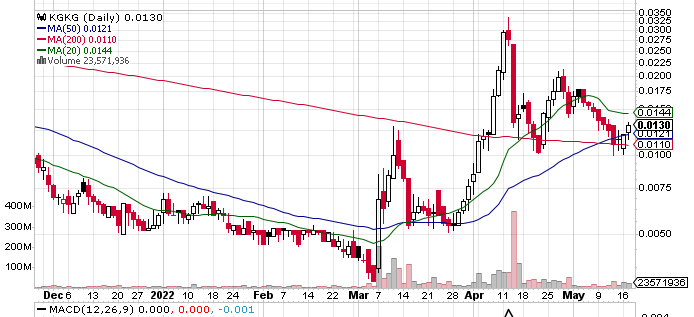 Key Details
The company is involved in the development of CBD and hemp-based functional beverages. Yesterday, Kona Gold saw its stock end the day with gains of as much as 8% after it made a key announcement with regards to its operations. Kona Gold announced that its Sparkling Ooh La Lemin Lemonades were going to be sold through the Winn-Dixie stores in the state of Florida.
It goes without saying that it was a major new development for the company's aims to further expand its retail footprint and hence, the rally in the stock was perhaps understandable. The product in question is available in as many as 6 different flavors and will be sold through the Winn-Dixie stores throughout the state of Florida.
The sales of the product is going to begin at some point in the third quarter of 2022. Winn-Dixie is the second major departmental stores chain that Kona Gold has managed to rope in for the purpose of selling this particular product.
Key Quote
"I am very excited to be announcing to our shareholders that our Sparkling Ooh La Lemin Lemonades will be available in Winn-Dixie stores around the great state of Florida, our Company's home state, starting in Q3," stated Robert Clark, CEO of Kona Gold Beverage, Inc. "Winn-Dixie's grocery stores are popular around Florida, and this will get our Sparkling Ooh La Lemin Lemonades into the hands of our fellow Floridians. Our team continues to create these great partnerships and we have so much more in the pipeline for 2022."
Technical Data
KGKG stock is trading above the 50-Day and 200-Day Moving averages of $0.0121 and $0.0110 respectively. However, the stock is trading below 20-Day moving average of $0.0137.