If you are currently on the lookout for stocks in the cannabis sector then it could possibly be a good move to take a look at The Green Organic Dutchman Holdings Ltd (OTCMKTS:TGODF) stock.
Trading Data
On Tuesday, TGODF stock fell 6.55% to $0.0770 with more than 128K shares traded, compared to volume of 381K shares. The stock moved within a range of $0.0733 – 0.0835 after opening trading at $0.0748.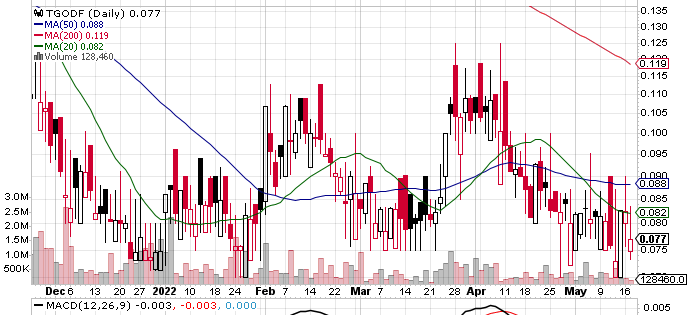 The Green Organic Dutchman Announces Raise of Additional Working Capital Through Asset Sale
On Tuesday, the company had been in the news after it announced that it had managed to complete a purchase and sale agreement with the landlord with regards to the leasehold improvements at the Puslinch plant. The deal is worth as much as $3 million. Out of the total sum that The Green Organic Dutchman is going to get from sale, as much as $2 million is going to be paid out in the form of cash.
The rest of the sum, that is $1 million, is going to be used for settling some of the previous loan advanced that the landlord had made to The Green Organic Dutchman. It was a significant development for the company since through this particular asset sale it managed to raise additional working capital. On the other hand, it is also necessary to point out that The Green Organic Dutchman also agreed to pay an extra $25,000 in the form of rent to the landlord for rest of the lease period.
Key Quote
"TGOD is poised for substantial growth in 2022. We enjoy a great productive relationship with our Landlord and this economically sensible Transaction provides us with immediate additional working capital to fund our continued growth as we continue to focus on execution, and financial discipline," said Sean Bovingdon, CEO of TGOD.
Technical Data
TGODF stock is below the 50-Day and 200-Day Moving averages of $0.0881 and $0.1187 respectively. Moreover, the stock is trading below the 20-Day moving average of $0.0824.