Over the past week, the Canadian agriculture company AgriFORCE Growing Systems Ltd (NASDAQ:AGRI) has come into major focus among investors and seen its stock clock gains of as much as 125% in light of fresh development. Last week, the government of the second-biggest wheat producer in the world, India, announced that it was going to cease all wheat exports.
Trading Data
On Wednesday, AGRI stock moved up 9% to $2.92 with 56.77 million shares, compared to its average volume of 12.16 million shares. The stock moved within a range of $2.5950 – 3.1300 after opening trade at $2.99.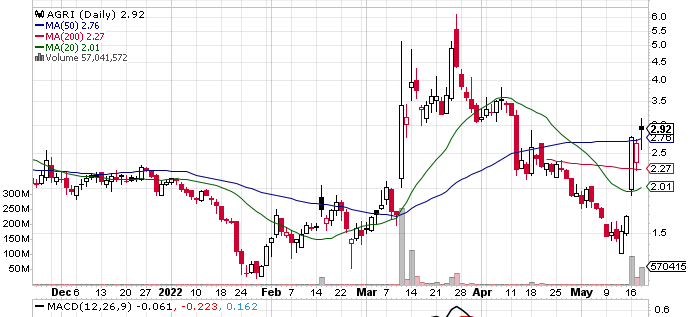 Key Analysis
At a time when wheat production had been affected by the Ukraine-Russia conflict, the decision from India came as a major blow to global wheat supplies. It should be noted that Ukraine and Russia are also two of the biggest wheat exporters in the world.
In light of such a major development, AgriForce naturally came on to the radars of investors in a big way and it is expected to be in focus over the coming days. Investors ought to note that when the conflict had first broken out and led to disruption in wheat supplies, the AgriForce stock had rallied strongly.
While it is true that the stock had come down from those highs, the latest development in India has come as another major catalyst for the AgriForce stock. Investors could do well to add it to their watch lists.
Technical Data
AGRI stock is above the 20-Day and 50-Day Moving averages of $2.17 and $2.76 respectively. Moreover, the stock is trading above the 200-Day moving average of $2.27.