ZA Group Inc (OTCMKTS:ZAAG), which is involved in the acquisitions from among the emerging industries, had been one of the companies that had come into sharp focus yesterday and its stock ended the day with gains of as much as 33%.
Trading Data
On Wednesday, ZAAG stock surged 33.33% to $0.0004 with 163.67 million shares, compared to its average volume of 108.14 million shares. The stock moved within a range of $0.0003 – 0.0004 after opening trade at $0.0003.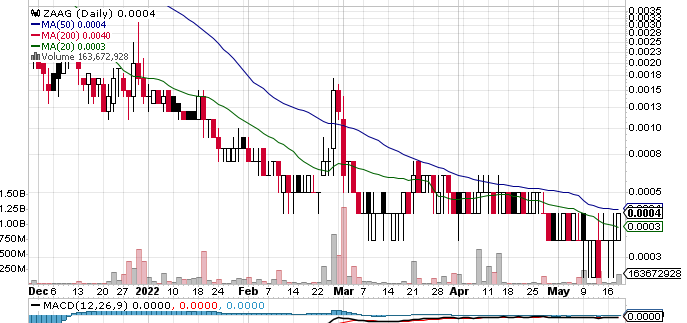 ZA Group, Inc. (ZAAG) Unveils Flagship Products From Its New E-Roots Manufacturing Plant
Yesterday the company made a major announcement with regards to E-Roots Manufacturing Inc, a company in which ZA Group owns a 60% stake. The company revealed the details with regards to two new food production modules of a proprietary nature that have been developed by E-Roots. The modules can be used for both retail as well as consumer products markets.
The first module, known as E-Garden, is meant for the mass market and is meant for the creation of living wall features in restaurants, schools, residences, and also offices. A unit can help in the production of a wide range of food products starting from ingredients for salads to staples.
The second module, which is known as the Growtainer, is meant for targeting the commercial food product space and it could well be an important product in the long term considering the speed at which the target industry has been growing.
Key Quote
John Morgan, CEO of ZA Group, made the following comments: "The E-Roots management team has many years of combined practical experience with their grow systems and their hands-on practice has birthed new and innovative ideas which they have test-marketed and further refined. We look forward to unveiling additional new innovative module designs currently being designed by the team. The sharp demand for their products is fuelled by daily news reports of a looming worldwide food famine."
Technical Data
ZAAG  stock is trading below the 20-Day and 50-Day Moving averages of $0.0004 and $0.0004 respectively. Moreover, the stock is trading below 200-Day moving average of $0.0004.