There has not been any news with regards to the Ethereum mining and technology firm Sysorex Inc (OTCMKTS:SYSX) for quite some time but the company's stock suffered from an almighty sell-off on Wednesday.
Trading Data
On Wednesday, SYSX stock slumped 25% to $0.0590 with more than 41.04 million shares traded, compared to its average volume of 27.93 million shares. The stock moved within a range of $0.0580 – 0.0749 after opening trading at $0.0651.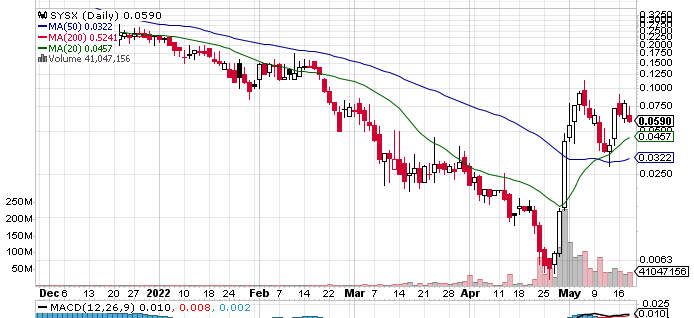 Sysorex Provides Business Update
As a result of the selloff, the stock ended the day with a decline of a staggering 25%. In this situation, investors need to figure out if the stock can actually make a comeback any time soon, and hence, it may be a good idea to look into the update provided by the company back on May 5.
The update was meant for the shareholders of Sysorex. The company announced that two of the biggest shareholders in Sysorex, District 2 Capital Fund LP and Bigger Capital Fund LP, had sent out an open letter to the shareholders of the company. In that letter, both the venture capital firms had noted that there was significant potential in Sysorex that remained untapped.
It was an important update and indicated that the company could still in fact be worth investing in. That being said, it is still unclear why the stock fell so sharply on Wednesday and it may be a good time for investors to perhaps wait for more news before making any decision.
Key Quote
"At the outset, I would like to thank our valued shareholders, many of whom like Bigger Capital Fund, LP and District 2 Capital Fund LP, which issued an open letter to shareholders earlier this week, recognize the significant "untapped potential" in Sysorex," stated Wayne Wasserberg, CEO of Sysorex.
Technical Data
SYSX stock is trading above the 20-Day and 50-Day Moving averages of $0.0504 and $0.0322 respectively. However, the stock is trading below the 200-Day moving average of $0.5241.