The beverage sector has managed to generate considerable attention from investors in recent times but on Wednesday the Koios Beverage Corp (OTCMKTS:FITSF) stock suffered from a selloff and went down by as much as 9%.
Trading Data
On Wednesday, FITSF stock moved down 8.70% to $0.1826 with more than 697K shares, compared to its average volume of 175K shares. The stock moved within a range of $0.1810 – 0.2150 after opening trade at $0.2150.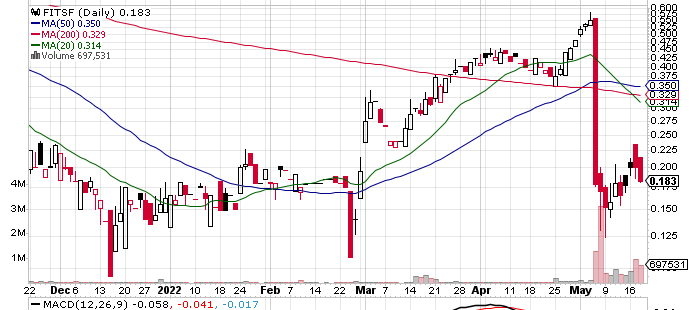 Koios Seeks 60-Day Escrow Extension From Shareholders
Yesterday, it emerged that the company had requested its investors to extend resale restrictions to its common stock that had been put in place due to the voluntary escrow in relation to the private placement of Koios stock back on February 8 this year. The company requested the investors to extend the date by 60 days to August 8 this year.
The initial restrictions that had been put in place as per security laws had a deadline of June 9, 2022. In addition to that, it ought to be noted that the company has also offered certain incentives to the investors to agree to the voluntary escrow.
Those who agree to it are going to be awarded one and a half units of a share purchase warrant for each common share that is held by any investor. The news was not welcomed by investors and it led to a strong selloff in the Koios stock.
Technical Data
FITSF stock is trading below the 20-Day and 50-Day Moving averages of $0.28 and $0.35 respectively. Moreover, the stock is trading below the 200-Day moving average of $0.33.