The medical genetics space has attracted a lot of attention from investors in recent times due to the work that many companies in the sector have been doing and one of the companies that you could look into today is Invitae Corp (NYSE:NVTA).
Trading Data
On Thursday, NVTA stock increased 8.14% to $3.72 with more than 13.27 million shares, compared to its average volume of 7.28 million shares. The stock moved within a range of $3.3150 – 3.8950 after opening trading at $3.42.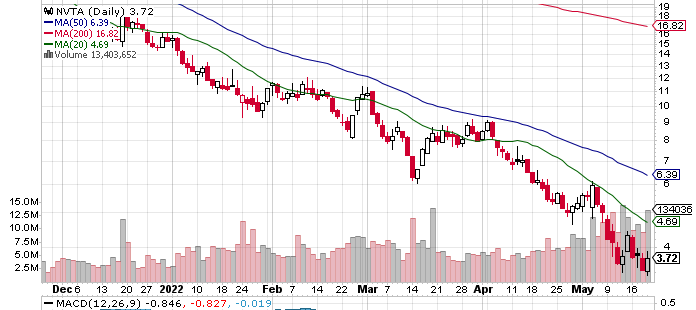 Key Details
The company was in the news yesterday after it made a major announcement and saw its stock soar by as much as 8% for the day. The company announced yesterday the expanded Invitae Pharmacogenomics Panel had been made available commercially. It was a major new announcement and the reaction from the market participants was perhaps not a total surprise.
This panel is going to be made up of Invitae Pharmacogenomics Mental Health Panel and also allow users to have the option of using the clinical decision support tool. This launch is a significant one because following this, Invitae is going to have the most comprehensive Pharmacogenomics Panel in the industry and that can only help the company in gaining a competitive advantage over many of its peers.
It may be a good idea now for investors to consider adding the stock to their watch lists and watch for further developments at Invitae.
Key Quote
"Ninety-nine percent of patients have genetic variants that can impact medication response making pharmacogenomics a foundational element for any precision medicine program," says Kristine Ashcraft, medical affairs director, pharmacogenomics at Invitae. "At Invitae, we pride ourselves on ease-of-use, so we offer both genetic testing and clinical decision support to enable clinicians to easily benefit from genetic insights when making prescription choices at the point of care."
Technical Data
NVTA stock is trading below the 20-Day and 50-Day Moving averages of $4.69 and $6.38 respectively. Moreover, the stock is trading below the 200-Day moving average of $0.0011.