Priority Aviation Inc (OTCMKTS:PJET) on May 19, 2022, gave details on the upcoming launch of its Student Housing By Owner Application.
Trading Data
On Thursday, PJET stock surged 36.36% to $0.0015 with more than 17.39 million shares, compared to its average volume of 9.33 million shares. The stock moved within a range of $0.0011 – 0.0016 after opening trade at $0.0016.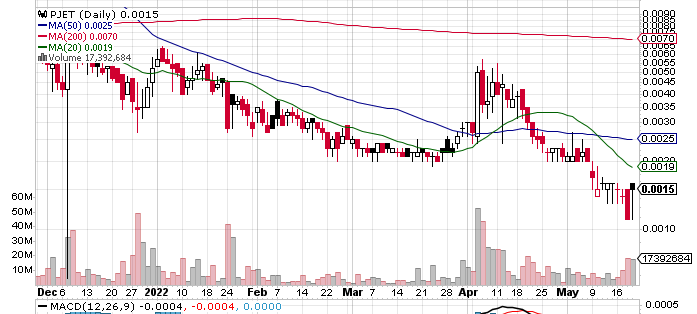 PJET Targets Optimal SHBO APP Release Timing As Billions Are Invested In Market
PJET, a technology firm engaged in developing applications for enhancing university student life, has its application connecting the local university community with students. This is being done through advertisement by property owners of real estate available for student rental.
The firm is planning to expand APP's reach into extra aspects of student life as well as build lifelong relationships with students post-college. Student housing rents are experiencing tremendous growth with multiple institutional investors have invested billions into the student housing market.
CEO Steven Rash said that SHBO APP is being launched. Rash added that the company has been aiming at a window for launching the APP into better market receptivity for newer technologies.
The CEO added that the company must agree that such an opportunity may not open in the next few weeks. SHBO app needs to launch to grab the fall return to the school housing market. A weekly APP development review is being conducted by PJET the week. A launch agenda is on the anvil. Investors are advised to wait for an imminent announcement very soon.
Key Quote
"The SHBO APP is ready to launch," said CEO Steven Rash. "Frankly, we've been looking for a window to launch the APP into better market receptivity for new technologies. We have to admit to ourselves now that such a window may not open up in the next few weeks and we need to launch regardless so that we can capture the fall return to the school housing market."
Technical Data
PJET stock is below the 20-Day and 50-Day Moving averages of $0.0019 and $0.0025 respectively. Moreover, the stock is trading below the 200-Day moving average of $0.0070.