Digital care delivery company American Well Corp (NYSE:AMWL) is one of the leaders in its industry and yesterday, the company was in focus after it made a major new announcement with regards to its business operations.
Trading Data
On Thursday, AMWL stock gained 0.33% to $3.02 with more than 2.08 million shares, compared to its average volume of 2.80 million shares. The stock moved within a range of $2.9800 – 3.1900 after opening trade at $3.02.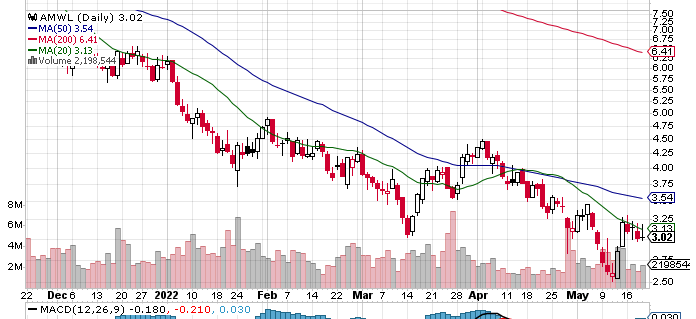 Amwell Enhances Mental Health Offerings With New Comprehensive Behavioral Health Program
The company announced that it continued with the task of expanding its ecosystem through the introduction of the Amwell Comprehensive Behavioural Health Program. It is a scalable and comprehensive behavioral healthcare solution that can be adjusted as per the unique needs of the target population. The program offers the full range of behavioral health care and that is another aspect of the program that one needs to keep in mind.
Mental health is now at a crisis point in many parts of the world due to a range of factors and the latest program from Amwell is aimed at addressing it effectively. The program is going to allow healthcare providers the option of providing a solution that is integrated into nature. It is going to include both psychiatry and also virtual therapy.
It now remains to be seen if the launch of this latest program leads to any traction in the Amwell stock or not. Investors could track the price action in the stock today.
Key Quote
"Increased demand for behavioral healthcare and a growing shortage of clinicians is resulting in a crisis that is driving worse outcomes and higher costs for the entire healthcare industry," said Dr. Ido Schoenberg, Chairman, and CEO, Amwell.
Technical Data
AMWL stock is trading below the 20-Day and 50-Day Moving averages of $3.166 and $3.54 respectively. Moreover, the stock is trading below the 200-Day moving average of $6.41.