Anyone who is interested in gold-related stocks might have noticed that the Gold Royalty Corp (NYSEAMERICAN:GROY) stock had made a strong move on Thursday and ended up with gains of as much as 6%. There was no news about the company yesterday but earlier on in the week on Monday, Gold Royalty came up with an update with regards to certain asset advancements.
Trading Data
On Thursday, GROY stock moved up 5.88% to $3.24 with more than 507K shares traded, compared to its average volume of 779K shares. The stock moved within a range of $3.0850 – 3.3900 after opening trading at $3.20.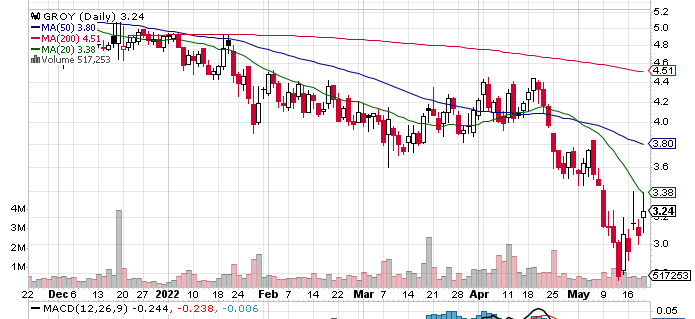 Recent News
In the three and six-month periods which ended on March 31, 2022, the company managed to generate revenues to the tune of $0.6 million and $1.2 million respectively. However, that was not all. The company also projected that it was going to generate revenues of $5 million for the full fiscal year and that was a strong projection.
On the other hand, at the end of the period on March 31, 2022, the company had a cash balance of $25.1 million and a Gold Royalty that was enough liquidity so that it could pursue further growth. It was clear to see that Gold Royalty had managed to make considerable progress during the period and foresaw stronger performance through the rest of the year. It is going to be interesting to see if the stock can add to its gains today.
Technical Data
GROY stock is trading above the 20-Day and 50-Day Moving averages of $3.37 and $3.80 respectively. However, the stock is trading below the 200-Day moving average of $4.51.