Not too long ago, the Globalstar Inc (NYSEAMERICAN:GSAT) stock had gone through a tough period and recorded significant declines. However, this past Friday the stock managed to stage a recovery and went up by as much as 5%.
Trading Data
On Friday, GSAT stock gained 4.27% to $1.22 with more than 2.97 million shares, compared to a volume of 4.70 million shares. The stock moved within a range of $1.1500 – 1.2300 after opening trade at $1.19.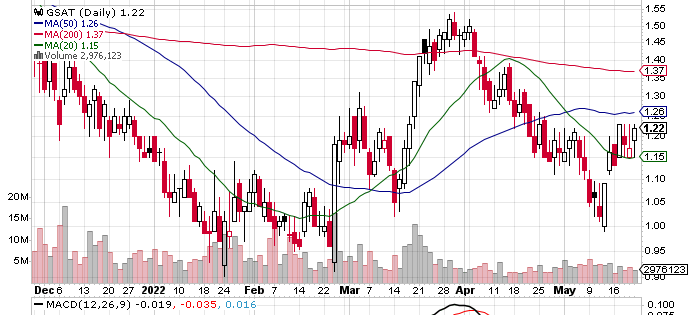 Recent Earnings
While it is true that the recovery must have been welcomed by investors it is also true that there was no news about Globalstar that may have triggered the rally. The last time the company was in the news was back on May 5 when it announced its financial results for the quarter that had ended on March 31, 2022.
In the first quarter, Globalstar managed to generate revenues of $5.8 million, and that reflected a year-on-year rise of as much as 22%. The rise in revenues had primarily been brought about by the higher revenues from engineering services. However, at the same time, the decline in subscriber equipment sales had neutralized that rise somewhat.
On the other hand, the losses suffered by the company from operations stood at $13.7 million for the first quarter. While it is a significant figure in itself, it should be noted that it also reflected a drop from the $19.3 million in loss from operations in the prior-year period.
Technical Data
GSAT stock is below the 50-Day and 200-Day Moving averages of $1.26 and $1.37 respectively. However, the stock is trading above the 20-Day moving average of $1.147.