Earlier on in the week Integra Resources Corp (NYSEAMERICAN:ITRG) had been in the news after the company made an announcement with regards to the drill results related to its DeLamar Project.
Trading Data
On Thursday, ITRG stock gained 22.34% to $1.15 with more than 211K shares, compared to its average volume of 187K shares. The stock moved within a range of $0.9600 – 1.1500 after opening trade at $0.96.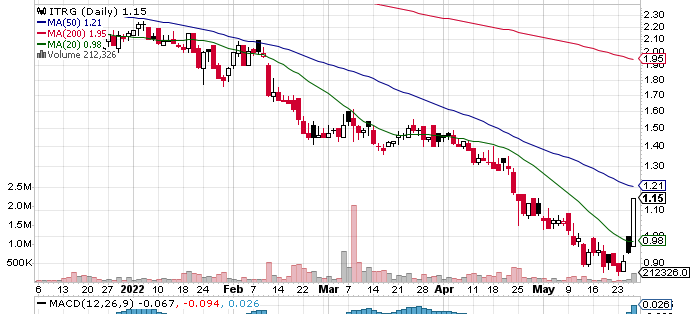 Integra Intersects Record Silver Grade at DeLamar: 9.85 g/t AuEq Over 26.97 m, Including 80.40 g/t Au and 14,054 g/t Ag (261.28 g/t AuEq) Over 0.40 m in Potential New, High-Grade Structural Zone at Sullivan Gulch
It seems that the news came as a bullish trigger for the stock and on Thursday, it ended up clocking gains of as much as 22% amidst heavy interest. In light of the remarkable rally in the stock yesterday, it is likely that the stock may come into focus among investors today, and hence, it may be a good move to take a closer look at the news.
It should be noted that the results that were announced on Thursday were from the larger Sullivan Gulch exploration initiative, which had been initially launched with the aim of discovering a high-grade silver feeder system.
George Salamis noted that the grades that had been announced in the results were 'spectacular' and went on to note that intercepts were the highest grade of gold and silver that had ever been encountered at the site. Hence, the massive rally in the stock yesterday was perhaps not really a surprise. It remains to be seen if the Integra stock can add to its gains today.
Key Quote
President and CEO, George Salamis, notes: "The grades announced today are clearly spectacular and represent some of the highest-grade gold and silver intercepts ever encountered on the project. The immense value of the DeLamar project was recently highlighted in the February 2022 PFS Resource Estimate which included a large gold and silver resource.
Technical Data
ITRG stock is trading below the 50-Day and 200-Day Moving averages of $1.21 and $1.95 respectively. Moreover, the stock is trading above the 20-Day moving average of $1.01.