On Thursday, the MEI Pharma Inc (NASDAQ:MEIP) stock was one of the pharmaceutical stocks which had managed to emerge as a notable gainer as it ended the day with gains of as much as 2%.
Trading Data
On Thursday, MEIP stock gained 2.16% to $0.4261 with more than 4.41 million shares, compared to its average volume of 6.27 million shares. The stock moved within a range of $0.4130 – 0.4466 after opening trade at $0.4245.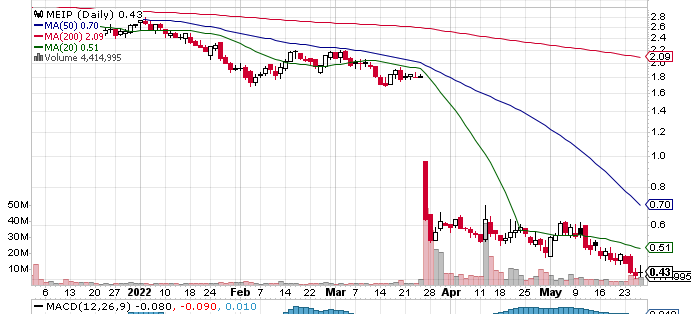 MEI Pharma and Kyowa Kirin Announce Acceptance of Abstract for Presentation at the American Society of Clinical Oncology Annual Meeting 2022
The company, which is best known for taking forward new cancer therapies, made a key announcement yesterday along with its collaboration partner Kyowa Kirin Co. It was announced that an extract with regards to information and data from the Phase 2 TIDAL study into the effects of intermittent doses of zandelsib, was going to be presented at a key industry event.
The event in question is the American Society of Clinical Oncology (ASCO) 2022 Annual Meeting and it is going to be held from June 3 to June 7 this year. The presentation of data at a key industry event is almost always seen as a positive and investors seemed to see it in the same way with regards to the joint announcement from MEI Pharma and Kyowa Kirin.
The presentation is going to be made by Andrew David Zelenetz next Saturday, June 4, 2022. It may be a good idea for investors to keep an eye on the stock in the lead-up to the big day.
Technical Data
MEIP stock is trading above the 20-Day and 50-Day Moving averages of $0.51 and $0.70 respectively. However, the stock is trading below the 200-Day moving average of $2.09.