Turner Valley Oil and Gas Inc (OTCMKTS:TVOG) on May 26, 2022, announced the appointment of Kyle Williams as the Chief Operating Officer of the firm effective immediately.
Trading Data
On Friday, TVOG stock ended flat at $0.0110 with more than 121K shares, compared to its average volume of 141K shares. The stock moved within a range of $0.0110 – 0.0110 after opening trade at $0.0083.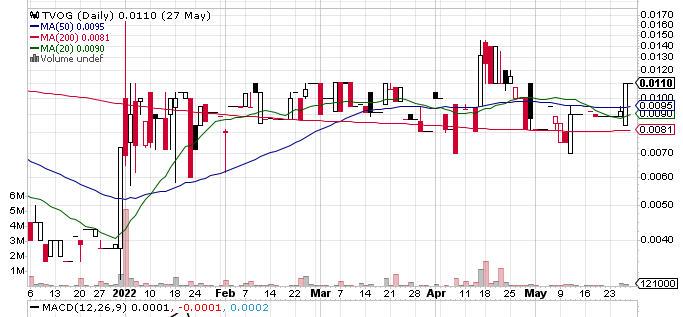 Turner Venture Group Announces Appointment of Chief Operating Officer and Closing of Herban Healing, LLC
In April, the company had confirmed on entering into acquisition agreement with Herban Healing LLC, which was finally closed now. Williams joins the firm's executive leadership team as part of its recent acquisition of Herban Healing LLC, a fully integrated CBD company in Houston, Texas.
Williams will be heading the company's quickly expanding new business efforts as the company aims at achieving investment targets. Having deep experience across each facet of hemp industry, he also has deep experience and knowledge in the legal cannabis industry.
Dr. Jordan Balencic, Chairman and CEO of Turner Venture Group said that the company has taken many steps for strengthening the management team. Balencic added that Kyle's distinguished track record leading cannabis businesses and legal hemp ventures makes the firm confident on capitalising his abilities. Kyle will also serve as Herban's CEO and co-founder, besides overseeing growth of the business. The CEO expressed excitement on opportunities seen in the year and welcomed Kyle to the family.
Kyle Williams brings significant expertise in wellness and health as well as retail brand operations. He has earnedbachelor's degree in Business Administration from the University of Houston.
Key Quote
"Year to date, we have made significant strides to strengthen our management team, and today we further these efforts with the addition of Kyle as our new COO," said Dr. Jordan Balencic, Chairman and CEO of Turner Venture Group.
Technical Data
TVOG stock is trading above the 20-Day and 50-Day Moving averages of $0.0094 and $0.0095 respectively. Moreover, the stock is trading above the 200-Day moving average of $0.0081.