The GlobalBlock Digital Asset Trading Limited (OTCMKTS:BLVDF) stock may come on to the radars of investors in coming days due to some recent developments. Last week on May 27 it had emerged that the company was going to provide its Default Status Report every two weeks in line with the provisions of the National Policy 12- 203 Management Cease Trade Orders.
Trading Data
On Friday, BLVDF stock ended flat at $0.1416 with more than 5K shares traded, compared to volume of 362 shares. The stock moved within a range of $0.1416 – 0.1416 after opening trading at $0.1416.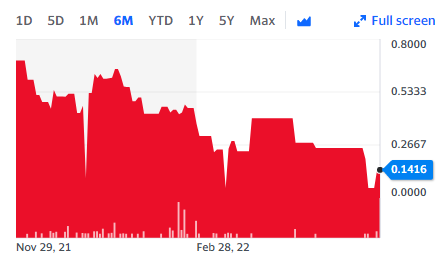 GlobalBlock Provides Bi-Weekly Status Report
In this regard, it ought to be noted that back on April 29, GlobalBlock Digital Asset Trading had announced its financial results for the fiscal year that had ended on December 31, 2021 could not be released by the designated deadline. In addition to the financial statement, the company also had to make disclosures with regards to management discussion and related analyses.
The designated deadline for the same had been set for May 2, 2022. Due to the failure to file its financial statements as per the deadline a cease trade order had been placed on the GlobalBlock Digital Asset Trading stock by the British Columbia Securities Commission. However, it should be noted that the management of GlobalBlock Digital Asset Trading has confirmed that it was working diligently for the purpose of filing the financial statements as soon as possible.
Technical Data
BLVDF stock is trading below the 20-Day and 50-Day Moving averages of $0.25 and $0.34 respectively. Moreover, the stock is trading below the 200-Day moving average of $0.57.