Last Friday, there were many stocks that had slumped sharply and one of those was the American Power Group Corporation (OTCMKTS:APGI), which saw its stock go down by as much as 13% amidst a heavy selloff. On that day the company announced its financial results for the three months and six months periods, both of which had ended on March 31, 2022.
Trading Data
On Friday, APGI stock moved down 13.43% to $0.0227 with more than 12K shares, compared to volume of 27K shares. The stock moved within a range of $0.0225 – 0.0227 after opening trade at $0.0225.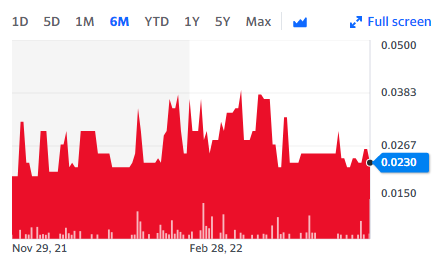 American Power Group Announces Unaudited Results For Q2 Fiscal 2022
Clearly the investors were not impressed by the numbers revealed by the company in its unaudited results. The company announced that the sales figures for the three month and six month period stood at $315000 and $1.84 million respectively.
However, in the three month period in 2021, American Power Group Corporation had generated sales of $357000 and in the six month period, the figure had been $591000. Chuck Coppa, who is the Chief Executive Officer and Chief Financial Officer of the company, noted that in the past two years, American Power Group Corporation has been successful in penetrating the oil, gas and fracking market successfully. Hence, it has also been the biggest generator of revenues during this period. In the three month period, the company suffered a loss of $310000.
Technical Data
APGI stock is trading below the 20-Day and 50-Day Moving averages of $0.026 and $0.029 respectively. Moreover, the stock is trading below the 200-Day moving average of $0.024.