In the previous week, the CYIOS Corp (OTCMKTS:CYIO) stock was in the middle of a major rally and clocked gains of as much as 72% to emerge as one of the major gainers. Considering the sheer magnitude of the gains, it may be a good move for investors to take a closer look into it.
Trading Data
On Friday, CYIO stock slid 7.41% to $0.0600 with 166K shares, compared to its average volume of 333K shares. The stock moved within a range of $0.0500 – 0.0683 after opening trade at $0.0620.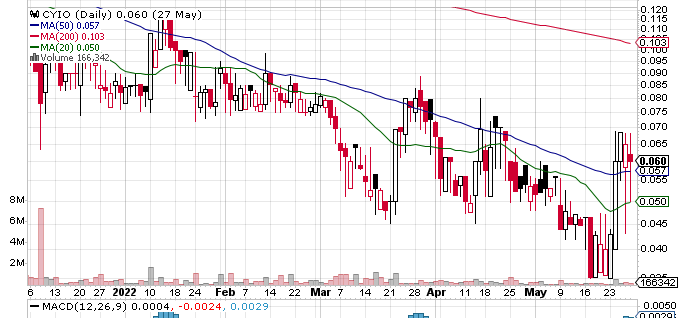 Latest News
The reason for the current focus on the company's stock is related to the "MetaCon- Into the Metaverse" event that had been taking place in Dubai last week. The event in question had been dubbed the 'Comic Con of the Metaverse' and had taken place over the weekend.
Immortals Group PTY, the fully owned subsidiary company of CYIOS Corp had come up with its own NFT collection, the Slam-Girl CYBERspace NFT collection for the particular event.
The news had come as a source of considerable optimism among investors and may have been one of the major reasons behind the rally in the CYIOS stock. The event had taken place at The Arena, which is located in the Dubai World Trade Center. It is going to be interesting to see if the CYIOS stock continues to be in focus today or not.
Key Quote
"We are at the cusp of fully unveiling Slam-Girl, the most important never-before-released metaverse superhero franchise, created by the legendary Stan Lee as the parody successor to Spider-Man. And to be using MetaCon as an exciting platform to share for the first time ever the beautiful journey behind this historic find with tech enthusiasts and comic fans in the Middle East region is a milestone we are proud of," says Shirrel Rhoades. Perhaps best known as the former Executive Vice President of Marvel Entertainment, Rhoades has a successful history as a publisher, author, filmmaker, syndicated film critic, comics scholar, college professor and museum president. He will be delivering a keynote address as well as answering questions about Slam-Girl at MetaCon.
Technical Data
CYIO stock is trading above the 20-Day and 50-Day Moving averages of $0.0527 and $0.0573 respectively. However, the stock is trading below the 200-Day moving average of $0.1030.