Last Friday XCPCNL Business Services Corporation (OTCMKTS:XCPL) saw its stock trade within a range but at the same time, it needs to be needed that the holding company was in the news as well and hence, investors could do well to take a closer look into it.
Trading Data
On Friday, XCPL stock ended flat at $0.0050 with more than 6.38 million shares, compared to its average volume of 2.96 million shares. The stock moved within a range of $0.0042 – 0.0070 after opening trade at $0.053.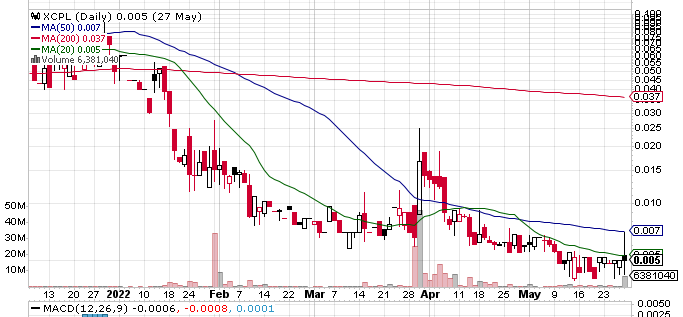 XCPCNL Signs Letter of Intent to Acquire Communications, Financial Disclosure, and Multimedia Marketing Firm, Mcap Media, Inc.
The company, which is best known for providing advanced marketing solutions to businesses, announced last Friday that it had inked a letter of intent for the purpose of acquiring the company Mcap Media Inc. In addition to that, the company would also acquire McapMediaWire.Com, which is a fully owned subsidiary of Mcap Media.
Mcap Media could prove to be a major new acquisition for XCPCNL Business Services, considering the fact that it is involved in providing premium multimedia communications. In addition to that, Mcap Media is involved in providing digital media services and financial disclosure solutions to investors as well as listed companies. In this regard, it is also necessary to note that since 2017, Mcap Media has managed to generate growth every year. In the period between February 2021 and February 2022, it had managed to bring in revenues to the tune of around $1.2 million.
Key Quote
"Bringing XCLP and Mcap Mediawire together will enable communicators to turn data into actionable insights — the necessary link between communications and business outcomes," explained Peter Granat, XCLP CEO. "We are serious about building a comprehensive platform to help MCAP manage the entire lifecycle of communications – from influencer discovery and content distribution to engagement and campaign analysis, to offer significant benefit to clients and increased transparency and accessibility to their shareholders."
Technical Data
XCPL stock is trading below the 20-Day and 50-Day Moving averages of $0.0054 and $0.0071 respectively. Moreover, the stock is trading below the 200-Day moving average of $0.0365.