StrikeForce Technologies, Inc. (OTCMKTS:SFOR) has announced about taking all necessary steps to prove its good faith effort to achieve compliance with the Health Insurance Portability and Accountability Act (HIPAA). The cyber security company is involved in providing next-gen cyber, data protection, along with secure video conferencing solutions for SMB's, Healthcare Institutions, Enterprises & Government agencies.
Trading Data
On Tuesday, SFOR stock ended flat at $0.0220 with more than 3.45 million shares, compared to its average volume of 2.38 million shares. The stock moved within a range of $0.0209 – 0.0240 after opening trade at $0.0220.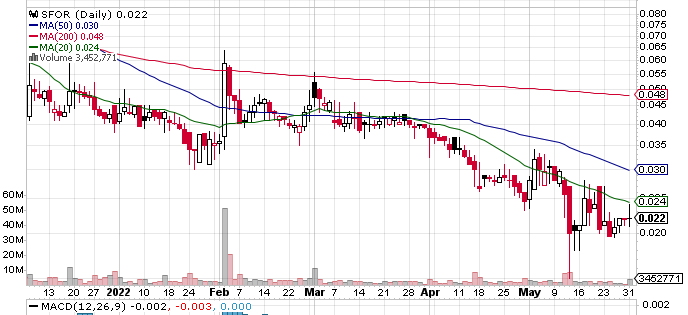 StrikeForce Achieves HIPAA Compliance with Compliancy Group
With the help of Compliancy Group's proprietary HIPAA so solution, The Guard, StrikeForce can track their compliance program and has even earned their Seal of Compliance. It is only issued to organizations that have implemented an effective HIPAA compliance program through the use of The Guard.
StrikeForce is officially done with Compliancy Group's Implementation Program, by sticking to required regulatory standards, as mentioned in the HIPAA Privacy Rule, Security Rule, Breach Notification Rule, Omnibus Rule, and HITECH. Compliancy Group has verified StrikeForce Technologies Inc's., good-faith effort to achieve HIPAA compliance through The Guard.
HIPPA consists of an asset of regulatory standards governing the security, privacy, and integrity of sensitive healthcare data called protected health information (PHI), which is any individually identifiable healthcare-related information. If vendors, who service healthcare clients, come into contact with PHI in any way, then compliance with HIPAA is a must for them.
Key Quote
"Becoming HIPAA compliant was extremely important for us," says Mark L. Kay, CEO of StrikeForce, "the Healthcare Industry continues to be the biggest victims of Healthcare Identity Theft and data breaches. Therefore, having the industry's only Zero-Trust Video Conferencing platform, being HIPPA compliant, and being the only Video Conferencing vendor included in Forrester's "Now Tech: Secure Communications, Q2, 2022" research report gives us a tri-factor advantage over the company's like Zoom, Teams & Webex in Healthcare."
Technical Data
SFOR stock is trading below the 20-Day and 50-Day Moving averages of $0.0238 and $0.0299 respectively. Moreover, the stock is trading below the 200-Day moving average of $0.0480.