The health-tech wearable company, Forza Innovations Inc. has provided an update for Sustainable Origins Inc., which is its very first acquisition under the Forza umbrella. Sustainable Origins is based in Charlotte, North Carolina, and is involved in the business of collections and refinement of renewable fuel inputs. It has consistently grown since the last update provided in a press release dated April 19, 2022.
Trading Data
On Tuesday, FORZ stock gained 5.56% to $0.0190 with more than 7.08 million shares, compared to its average volume of 335k shares. The stock moved within a range of $0.0130 – 0.0255 after opening trade at $0.0158.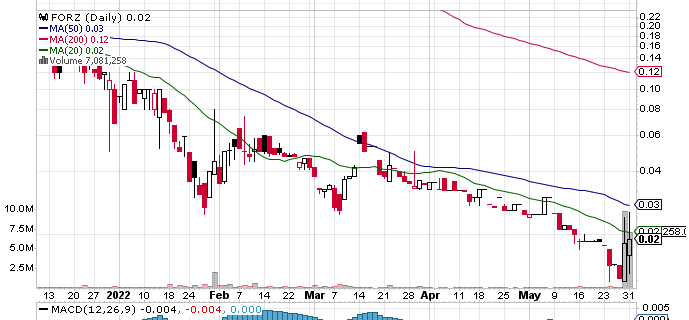 Forza Innovations Inc. Announces Sustainable Origins Strategic Update
Sustainable Origins has collaborated with Denver Waterjet to provide custom fabricated tanks for clients including large restaurants and kitchen commissaries. It will boost collection efficiency for both the client and Sustainable. It has also entered into a trial partnership with Zoom Drain for two-way client referral which is already successful and has provided access to some of the larger new accounts.
The company is actively engaged in talks for a potential asset purchase agreement with Carolina Biodiesel (based in Durham, NC, and presently servicing 87 restaurants). This would be an excellent location for a second site since it connects Sustainable to the neighboring cities of Greensboro and Raleigh, where some of its current customers have locations that it could immediately sign-on.
Johnny Forzani, President and CEO of Forza Innovations Inc. said that over the last few months, the company is assembling the innovation lab with all pertinent equipment required. There are lead times on a few machines, which gave more time to direct attention to Sustainable Origins, providing Aloysius and Alex with resources to jumpstart the business and focus on growth and expansion.
Key Quote
Johnny Forzani, President and CEO of Forza, comments, "Following the strategic plan including marketing and equipment upgrades, Sustainable Origins is consistently executing tasks and exceeding targets with strong momentum."
Technical Data
FORZ stock is below the 20-Day and 50-Day Moving averages of $0.0200 and $0.0275 respectively. Moreover, the stock is trading below the 200-Day moving average of $0.1203.