In the past week, the BioLife Sciences Inc (OTCMKTS:BLFE) stock has emerged as one of the major movers in the market and managed to clock gains of as much as 6% as a consequence. While the rally in the stock has been nothing short of impressive, it ought to be noted that the company was in the news yesterday following a key announcement and investors could do well to take a look.
Trading Data
On Wednesday, BLFE stock ended flat at $0.1601 with more than 12K shares, compared to its average volume of 103K shares. The stock moved within a range of $0.1590 – 0.1800 after opening trade at $0.1590.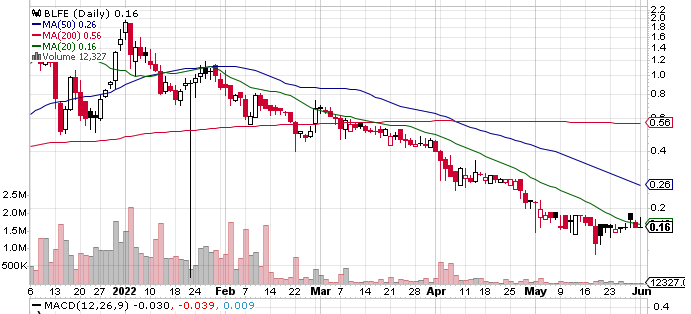 BioLife Sciences Inc. Files Form 1-A with the Securities and Exchange Commission (SEC) to Raise Capital Under a Tier I Regulation A+ Offering
Yesterday, the company announced that it had completed the filing of Form 1-A with the United States Securities and Exchange Commission. In the aforementioned form, the company indicated that it was looking to raise a maximum of $20 million by way of a Tier I Regulation A+ offering.
The company seeks to raise the cash through the sale of BioLife common shares and it was also noted that the shares were going to be priced in the $0.05 a share and $0.50 a share range. However, it was also noted yesterday that the final offering price was going to be decided by BioLife once the approval had been handed down by the SEC. It will be interesting to see how investors react to the news of the offering.
Technical Data
BLFE stock is trading below the 20-Day and 50-Day Moving averages of $0.18 and $0.26 respectively. Moreover, the stock is trading below the 200-Day moving average of $0.56.