There were a number of stocks that had managed to make a strong move on Wednesday and one of those was the Clearday Inc (OTCMKTS:CLRD) stock, which managed to clock gains of as much as 15%. The rally in the stock came about after the company made a major announcement with regard to its Mitra robots.
Trading Data
On Wednesday, CLRD stock surged 14.50% to $1.50 with 433 shares, compared to its average volume of 3.61K shares. The stock moved within a range of $1.5000 – 1.5000 after opening trade at $1.50.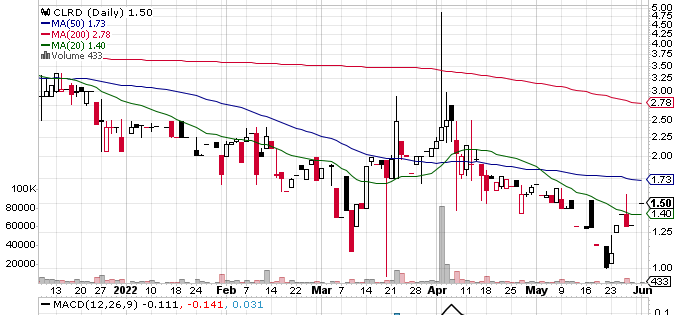 Clearday announced that the initial batch of its Mitra robots were in the process of being assembled and the company further noted that those robots were going to be delivered during the course of July. The Mitra robots are meant for providing robotic services to residents at Clearday who may suffer from cognitive issues.
The company decided to manufacture these robots as part of its larger initiative to introduce new-age robotic services which are tailor-made for senior citizens. The whole thing is being coordinated through Clearday Labs. The robots have a number of use cases and the company believes that they could be considered useful for older American citizens. The rally in the stock was perhaps understandable and now it remains to be seen if it can continue to hold on to its momentum over the coming days.
Key Quote
"We are very proud of Mitra and the ability to offer robotic services to our residents. Mitra improves the quality of life and enhances and empowers care at our facilities" said Jim Walesa, Chairman, and CEO of Clearday. "Mitra robotic services include applications that greatly improve care including actively engaging residents with games, music, and our proprietary digital programming." "We see that the content and variety of our digital streams are greatly appreciated by our residents and are preferred to traditional broadcast options that our challengers rely on for engagement" added Jim Walesa.
Technical Data
CLRD stock is trading below the 20-Day and 50-Day Moving averages of $1.73 and $2.78 respectively. However, the stock is trading above the 200-Day moving average of $1.41.